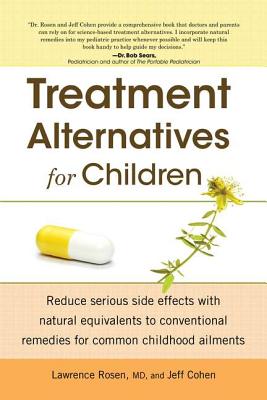 Treatment Alternatives for Children (Paperback)
Alpha Books, 9781615641819, 331pp.
Publication Date: August 7, 2012
* Individual store prices may vary.
or
Not Currently Available for Direct Purchase
Description
Parents worry about their kids, especially when it comes to their health. Conventional medicine has its place but health conscious parents often worry about the serious side effects associated with many prescription drugs and other conventional treatments.
Treatment Alternatives for Children
is an easily accessible reference guide that enables parents to look up any number of childhood ailments-acne, ear infections, ADHD ... you name it-and get all of the vital comparative information about the most common conventional and alternative treatments. For each side-by-side conventional/alternative comparison, readers get:
A description of the ailment each treats.
The generic and common brand names of each treatment.
Active ingredients.
How each treatment works.
Dosage, where applicable.
Treatment efficacy and timing.
Common mild side effects.
Less common serious side effects.
Organized from "A" to "Z," this book also covers a special "spotlight" on various important natural remedies and methods that can be used for a variety of ailments.
About the Author
Lawrence Rosen, M.D., is a nationally recognized expert in Pediatric Integrative Medicine, and a founding member and Chair of the American Academy of Pediatrics Section on Complementary and Integrative Medicine. He is appointed as Clinical Assistant Professor in Pediatrics at UMDNJ/New Jersey Medical School. Dr. Rosen is a graduate of New York Medical College and the Massachusetts Institute of Technology, and he completed his residency and chief residency in pediatrics at Mount Sinai Hospital in New York. Dr. Rosen serves on many integrative health advisory boards, including the Holistic Moms Network, Teleosis Institute, IntegrativePractitioner.com and Integrative Healthcare Symposium, Integrative Touch for Kids, PedCAM, and MarbleJam Kids. He is a contributing editor and columnist for "Kiwi Magazine," as well as a contributing author/editor for several books, including "Integrative Pediatrics" (Oxford University Press 2009), "Green Baby" (DK 2008), and "Pediatric Clinics of North America: Complementary and Alternative Medicine" (Elsevier 2007). Jeff Cohen is a three-time published author and holistic parent of two young kids with his wife Carol. His first book, "Dating, Inc.: How to Recruit, Select, and Retain the Right Man for a Relationship," achieved bestseller status on Amazon. He subsequently wrote two books for Penguin, "The Complete Idiot's Guide(R) to Working Less, Earning More" and "The Complete Idiot's Guide(R) to Recession Proof Careers." Jeff teaches career, love, and personal growth seminars throughout the country. He's spoken to audiences ranging from 5 to 5,000. He also freelance writes for magazines and online sites such as Yahoo.com. Jeff has shared his insights through appearances on CNN, CBS, NJN, and "Voice of America," and through interviews with "USA Today," the (New York) "Daily News," the "Denver Post," the "Chicago Tribune," and the "Boston Herald." Jeff has over 15 years' experience in the field of personal growth and motivation. He earned a dual-degree in Psychology from the University of Pennsylvania and Marketing from the Wharton School of Business.
Advertisement