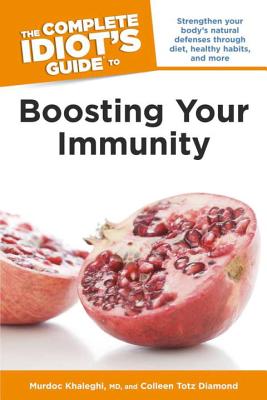 The Complete Idiot's Guide to Boosting Your Immunity (Paperback)
Strengthen Your Body s Natural Defenses Through Diet, Healthy Habits, and More
Alpha, 9781615643189, 288pp.
Publication Date: July 2, 2013
* Individual store prices may vary.
Description
The key to overcoming chronic illness and recovering from chemotherapy treatments-or just to avoid getting every virus that goes around-is to build up the body's natural immune defenses. Nutrient-poor diets contribute to their poor health, so learning how to eat foods that boost your immune defenses is a very important step. The Complete Idiot's Guide® to Boosting Your Immunity shows readers which foods to eat in order to build up their natural resistance to viruses, bacteria, and chronic diseases, including recipes showcasing nutrient-dense foods that pack an anti-disease punch. It also provides knowledgeable guidance for navigating the complex world of vitamins and natural supplements, helping readers formulate a regimen that works best for their needs. The role of exercise in immunity is also explored, with practical tips for using it to maximize wellness. And to give readers the best chance of staying healthy, the book shows hidden healthy habits that can keep them from picking up every germ that goes around.
About the Author
Murdoc Khaleghi, MD, has written many books on health and wellness and is the medical director of WellnessFX, an organization devoted to improving overall health through a combination of medical and natural interventions. His books include The Everything Guide to Preventing Heart Disease and New, Healthier You. In addition to writing, Dr. Khaleghi continues to see patients, frequently speaks on health topics, and has been featured on numerous television and radio shows.

Colleen Totz Diamond is a freelance writer and editor with 20 years of experience working on books in the health and lifestyle categories. Her recent work includes books about heart health, celiac disease, and emotional intelligence.
or
Not Currently Available for Direct Purchase