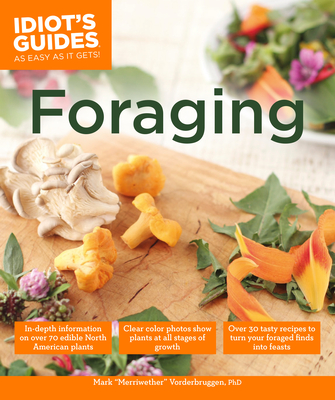 Foraging
Over 30 Tasty Recipes to Turn Your Foraged Finds into Feasts (Idiot's Guides)
Paperback

* Individual store prices may vary.
Description
Find edible plants anywhere in North America!

Foraged delicacies have become the latest foodie obsession. Wild edibles collected by professional foragers are proliferating on the plates of top-tier restaurants because they offer novel and ultra-fresh sensations for the tongue, and they frequently taste more flavorful than farmed foods. For people seeking new food experiences and wanting to forage for themselves, Idiot's Guides: Foraging shows how to find wild edibles and when and how to harvest them. Includes over 30 tasty recipes that describe how to prepare these wild foods.

- Includes common plants all across North America.
- Covers positive plant identification.
- Multiple large, full-color photos identify each plant (including the mature plant, how it looks at various stages of growth, and how it looks at the right stage of growth for harvesting).
- Each entry gives facts on the plant's habitat, physical properties, which parts are edible, harvesting sustainability, preparation, storage, and poisonous look-alikes.
-More than 30 delicious recipes.
-Includes range maps and charts that list plants by habitat and by season.
Alpha, 9781615648894, 224pp.
Publication Date: April 12, 2016
About the Author
Mark Vorderbruggen started one of the top foraging sites on the internet in 2008, but he has been a forager all his life. Both his parents' families used foraged foods to survive during the Great Depression, and they passed their knowledge on to him. Knowing how to harvest nature's free food fed him through the poverty years of his childhood and while getting a master's degree in medicinal chemistry and a PhD in physical organic chemistry. For the last 18 years, he has worked as a research chemist in the oil industry, using his knowledge of natural products to develop environmentally friendly replacements for traditional oil field chemicals. However, his evenings and weekends are spent guiding people back to nature's bounty, not only teaching them which plants are edible and/or medicinal, but also proselytizing how foraging heals the body, mind, and soul … and prepares them for the zombie apocalypse!