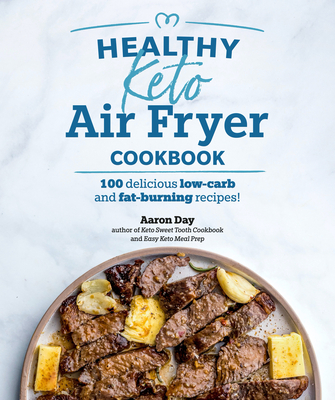 Healthy Keto Air Fryer Cookbook
100 Delicious Low-Carb and Fat-Burning Recipes
Paperback

* Individual store prices may vary.
Description
It's time to maximize your weight loss results! Discover how perfectly the air fryer fits into your keto diet with this cooking guide.

So, you've decided to go keto - but that doesn't mean you have to get rid of your air fryer. This convenient kitchen appliance is perfect for cooking keto-friendly meals while also helping you shed some weight.

Packed with tips and tricks for success on the ketogenic diet, delicious dishes from chicken wings to pizza bites, and complete nutritional information, this air fryer cookbook will help you make quick and tasty meals! It also saves time in the kitchen so you can enjoy more time with the family!

This low-carb guide to keto from DK Books features:

   • 100 keto-friendly recipes, from stuffed mushrooms to any kind of fish to roasted vegetables. Don't forget about dessert, snacks and yes, cake
   • Expert advice on how to reach your weight loss goals and to help you stay on and sustain the keto diet
   • Counted nutritional info that facilitates your daily routine
   • How to get the most out of your air fryer and the keto diet

Tired of waiting for your oven to heat up? Or soggy leftovers after reheating it in the microwave? This recipe book has you covered! Aaron Day, an accredited nutritional therapist and advocate for the keto lifestyle, shows you how an air fryer offers a healthy cooking option for keto dieters.

Start Your Journey to a Healthier Lifestyle Without Sacrificing on Taste

This meal prep cookbook equips you with all the information you need to get the most from your keto diet. It shows you the easiest and tastiest way towards a whole new, healthier way of living. It's the perfect gift for anyone looking to give the keto diet a spin.

If you want to keep the weight off for good, let Healthy Keto Air Fryer Cookbook be your guide.
Alpha, 9781615649792, 160pp.
Publication Date: January 5, 2021
About the Author
Aaron Day is an accredited nutritional therapist and advanced sports exercise nutritional advisor. He has a passion for health and nutrition, and as an advocate for the ketogenic diet and keto lifestyle, he's the recipe developer, food photographer, and videographer behind the popular FatForWeightLoss website (www.fatforweightloss.com.au), where he creates and shares delicious ketogenic recipes that are comforting, quick, and simple to make. Aaron is also the author of Easy Keto Meal Prep and Keto Sweet Tooth Cookbook.
or
Not Currently Available for Direct Purchase