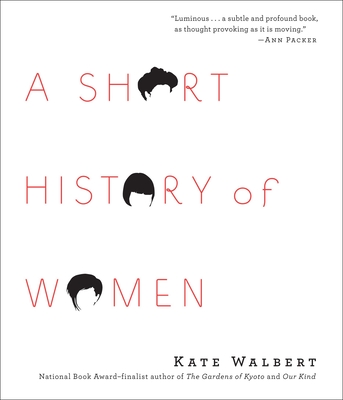 A Short History of Women (CD-Audio)
HighBridge Company, 9781615730964
Publication Date: April 28, 2010
Other Editions of This Title:
Paperback (6/15/2010)
Hardcover (6/16/2009)
Hardcover, Large Print, Large Print (7/1/2009)
* Individual store prices may vary.
Description
The novel opens in England in 1915, at the deathbed of Dorothy Townsend, a suffragist and one of the first women to integrate Cambridge University. Her decision to starve herself for the cause informs and echoes in the later, overlapping narratives of her descendants. Among them are her daughter Evie, who becomes a professor of chemistry at Barnard College in the middle of the century and never marries, and her granddaughter Dorothy Townsend Barrett, who focuses her grief over the loss of her son by repeatedly defying the ban on photographing the bodies of dead soldiers returned to Dover Air Force base from Iraq. The contemporary chapters chronicle Dorothy Barrett's girls, both young professionals embarrassed by their mother's activism and baffled when she leaves their father after fifty years of marriage.

Walbert deftly explores the ways in which successive generations of women have attempted to articulate what the nineteenth century called "the woman question." Her novel is a moving reflection on the tides of history, and how the lives of our great-grandmothers resonate in our own.
About the Author
ELIZA FOSS has appeared in numerous theatrical productions, regionally and in New York. Having narrated over thirty audiobooks and short stories, Eliza was featured in AudioFile magazine as one of "audios hottest romance narrators."
RUTH MOORE is a veteran audiobook narrator. Born in Britian, she now resides in the U.S., where her career has covered everything from standup comedy to Shakespeare.
PAULA PARKER is an award-winning audiobook narrator. Off Broadway she has worked with the Public Theatre and has appeared in various regional productions as well.
KATE WALBERT is the author of three previous New York Times notable books. Winner of a Pushcart and an O. Henry Prize, she has published fiction in The New Yorker, The Paris Review, Best American Stories 2007, and other publications. She lives in New York City and Connecticut with her husband and daughters.
NICOLA BARBER has appeared on stage in New York and across the country, including with Scarlett Johnansson in <i>The Nanny Diaries.</i> She holds a degree in theatre arts from UNC-Chapel Hill, and has taken classes at the London Academy of Dramatic Art. She has been training and performing voiceovers since 2001, and can be heard in video games, animation, commercials, and corporate videos, as well as on award-winning audiobooks.
Praise For A Short History of Women…
"Wickedly smart. . . . Wears both its intelligence and its ideology lightly. . . . A gorgeously wrought and ultimately wrenching work of art."
—The New York Times Book Review
"Perfectly calibrated, intricately structured, and gripping from page one."
—Publishers Weekly (starred review)
"Ambitious . . . wickedly funny."
—The Seattle Times
"Reminiscent of a host of innovative writers from Virginia Woolf to Muriel Spark to Pat Barker….A witty and assured testament to the women's movement and women writers, obscure and renowned."
—The Washington Post
"The prose is vivid and sympathetic, the characters believable."
—The Plain Dealer
"Ruth Moore gives the budding suffragist a suitably spirited voice, and Nicola Barber uses a meditative tone and precise delivery to portray the self-contained Evelyn, who becomes a scientist in the U.S. after WWI. Narrator Eliza Foss shines as she expresses the anger felt by Dorothy Barrett, a woman in late middle age."
—AudioFile