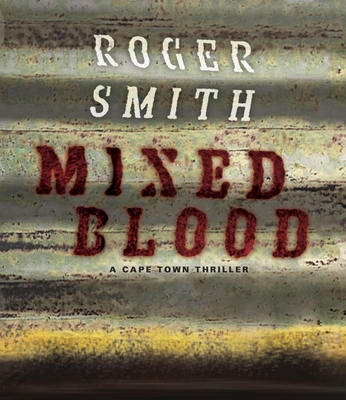 Mixed Blood (CD-Audio)
A Cape Town Thriller
HighBridge Company, 9781615735266, 480pp.
Publication Date: April 3, 2012
Other Editions of This Title:
Digital Audiobook (4/2/2012)
Paperback (12/22/2009)
* Individual store prices may vary.
Description
Reluctant bank robber Jack Burn is on the run after a heist in the United States that left three million dollars missing and one cop dead. Hiding out in Cape Town, South Africa, he is desperate to build a new life for his pregnant wife and young son. But on a tranquil evening in their new suburban neighborhood, they are the victims of a random gangland break-in. Benny Mongrel, an ex-con night watchman, knows who went into Burn's house, and what the American did to them. Burn's actions soon trap them both in a cat-and-mouse game with Rudi "Gatsby" Barnard, a corrupt Afrikaner cop. Once Gatsby smells those missing American millions, the men are drawn into a web of murder and vengeance that builds to an unforgettable conclusion.
About the Author
JOHN LEE has acted in shows ranging from Beckett to Shaw and has narrated hundreds of audiobooks including the works of Nobel Winner Orhan Pahmuk and James Joyce's Ulysses. He is an Audie® Award winner, an AudioFile Golden Voice, and recipient of dozens of Earphone Awards.
ROGER SMITH is an accomplished screenwriter, director, and producer. He lives in Cape Town.
Praise For Mixed Blood: A Cape Town Thriller…
"A gripping thriller that follows believable (if sometimes grotesque) characters along a desperate rush to ruin. Highly recommended."
—Library Journal
"Smith plays out . . . that chilling sense of inevitability that is at the heart of the best noir. . . . A fine debut."
—Bill Ott, Booklist
"A cinematic Cape Town thriller."
—BookPage
"Smith offers a gritty tale of corruption and vengeance set in South Africa in his absorbing debut. His taut prose bodes well for future thrillers from his pen."
—Publishers Weekly
"Smith does an outstanding job of bringing Cape Town to life, taking us through the twists and turns of the local criminal world and the confusing labyrinth of racial identity in post-apartheid South Africa."
—Kirkus Reviews
"The spare, well-paced story gathers momentum to a Miltonic moment of retribution."
—Mystery Scene Magazine
"The repulsive Rudi 'Gatsby' Barnard, an Afrikaner cop, [is] as corrupt and villainous as any in recent fiction."
—Alfred Hitchcock's Mystery Magazine
"One of the most impressive thrillers you are likely to read this year. We are certain to see [Smith's] name in the list of nominees for most of the major crime fiction awards."
—Bookgasm
"A lean, bloodthirsty, yet meditative story that is almost impossible to put down."
—Florida Times-Union
"Dickensian in its presentation of thugs and murderers [and] an especially wonderful villain."
—Richmond Times-Dispatch
"A very brutal, absolutely gripping walk on the wild side. . . . A shattering page-turner."
—The Anniston Star
"John Lee infuses the story with tension as he performs an impeccable combination of extreme hostility, seedy vulgarity, and mounting chaos. . . . Lee keeps pace with the grisly plot, hooking the listener with his gripping narration."
—AudioFile