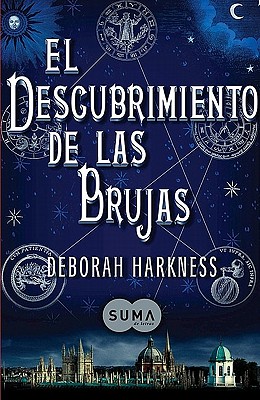 El descubrimiento de las brujas
Paperback

* Individual store prices may vary.
Other Editions of This Title:
Digital Audiobook (2/7/2011)
Paperback (12/27/2011)
Hardcover (2/8/2011)
Compact Disc (2/8/2011)
Description
En el corazón de la Biblioteca Bodleiana de Oxford, la apasionada historiadora Diana Bishop se topa en medio de sus investigaciones con el manuscrito identificado como Ashmole 782. Descendiente de un antiguo linaje de brujas, Diana intuye que el manuscrito está relacionado de alguna manera con la magia, pero no quiere tener nada que ver con la brujería. Y después de tomar algunas notas sobre sus curiosos dibujos, lo devuelve sin perder más tiempo a las estanterías. Lo que Diana no sabe es que se trata de un manuscrito alquímico que ha estado perdido durante siglos y cuyo descubrimiento ha desencadenado que hordas de daimones, vampiros y brujas salgan a la luz de las salas de lectura de la Biblioteca. Una de esas criaturas es Matthew Clairmont, un enigmático genetista, amante del buen vino y vampiro milenario, cuya alianza con Diana se hará progresivamente más íntima y poco a poco surgirá entre ambos una relación que hará tambalear los tabúes asentados desde hace tiempo en un mundo secreto y encantado. La teoría de la evolución de Darwin no contempló todos los seres que habitan la Tierra, pero Deborah Harkness lo ha hecho en esta emocionante e ingeniosa novela. Desde Oxford a Nueva York, y de aquí a Francia, la magia, la alquimia y la ciencia nos desvelan sus verdaderos vínculos en el libro definitivo sobre la brujería y sus poderes. ENGLISH DESCRIPTION When historian Diana Bishop opens a bewitched alchemical manuscript in Oxford's Bodleian Library it represents an unwelcome intrusion of magic into her carefully ordinary life. Though descended from a long line of witches, she is determined to remain untouched by her family's legacy. She banishes the manuscript to the stacks, but Diana finds it impossible to hold the world of magic at bay any longer. For witches are not the only otherworldly creatures living alongside humans. There are also creative, destructive daemons and long-lived vampires who become interested in the witch's discovery. They believe that the manuscript contains important clues about the past and the future, and want to know how Diana Bishop has been able to get her hands on the elusive volume. Chief among the creatures who gather around Diana is vampire Matthew Clairmont, a geneticist with a passion for Darwin. Together, Diana and Matthew embark on a journey to understand the manuscript's secrets. But the relationship that develops between the ages-old vampire and the spellbound witch threatens to unravel the fragile peace that has long existed between creatures and humans—and will certainly transform Diana's world as well.
Suma Internacional, 9781616055134, 792pp.
Publication Date: March 30, 2011
About the Author
Deborah Harkness es profesora de historia en la Universidad de Southern California, Estados Unidos. Ha recibido las becas Fulbright, Guggenheim y National Humanities Center y publicado escritos de corte académico como The Jewel House: Elizabethan London and the Scientific Revolution. También tiene un galardonado blog de vino. Alcanzó el reconocimiento internacional con la saga de El descubrimiento de las brujas, bestseller de The New York Times señalado como un Harry Potter para adultos. Para más información, visita la página web y el blog de la autora: www.deborahharkness.com http://goodwineunder20.blogspot.com
or
Not Currently Available for Direct Purchase