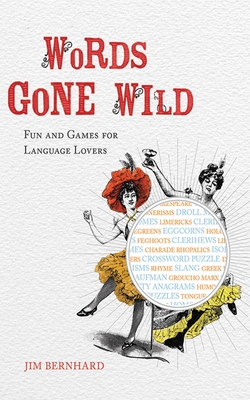 Words Gone Wild
Puns, Puzzles, Poesy, Palaver, Persiflage, and Poppycock
Hardcover

* Individual store prices may vary.
Description
Chock-full of jokes and entertaining twists of the tongue, this lighthearted but scholarly guide to humorous language is a sure?re hit with word lovers. The examples are entertainingly bawdy, with a delightful narrative voice in word sleuth and author, Jim Bernhard. He provides examples and puzzles, teaching a smidgen of historical and etymological scholarship, but above all, amusing his audience.
Puns from Greek dramatists, Shakespeare, the Bible, George S. Kaufman, and Groucho Marx vie for attention with comical spoonerisms, droll malapropisms, witty anagrams, and humorous palindromes—plus original material by the author—including limericks, clerihews, crossword puzzles, acrostic puzzles, tonguetwisters, and other kinds of word play. Some examples:
Why does a match box? Because it sees a tin can.
Time ?ies like an arrow. Fruit ?ies like a banana.
The pony was unable to talk because he was a little hoarse.
Two peanuts went into a bar. One was a salted.
The chicken that crossed the road was pure poultry in motion.
As the gardener said when asked why he was cutting grass with a pair of scissors: "That's all there is; there isn't any mower."
Skyhorse, 9781616080143, 256pp.
Publication Date: June 1, 2010
About the Author
Jim Bernhard is the author of Puns, Puzzles, and Word Play: Fun and Games for Language Lovers; Porcupine, Picayune, & Post: How Newspapers Get Their Names; and, with his wife, Virginia, Life Is NOT a Dress Rehearsal: 10 Lists to Make Before Your Final Exit. He has an MA in English literature from the University of Birmingham in England, where he was a Marshall Scholar, and a BA from Rice University. Bernhard is also a playwright, lyricist, actor, theatrical manager, and crossword puzzle constructor. He resides in Houston, Texas.
or
Not Currently Available for Direct Purchase