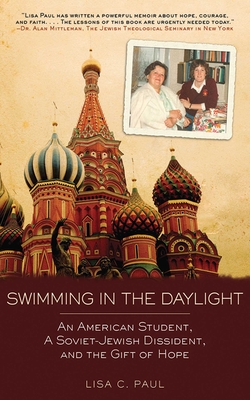 Swimming in the Daylight
An American Student, a Soviet-Jewish Dissident, and the Gift of Hope
Hardcover

* Individual store prices may vary.
Other Editions of This Title:
Paperback (8/5/2014)
Description
There is always some part of the world where human rights are trampled and oppression quashes the human spirit. In the 1980s, it was the Soviet Union. In Swimming in the Daylight, Lisa Paul, a Catholic-American student living in Moscow in the early '80s, details how she grew to understand the perverse reality of the pre-Gorbachev Soviet regime as her friendship with her Russian-language tutor, Inna Kitrosskaya Meiman, blossomed. Inna, a Soviet-Jewish dissident and refusenik, was repeatedly denied a visa to receive life-saving cancer treatment abroad. The refusal was an apparent punishment imposed on both her and her Jewish husband, Naum, for his participation in the Moscow Helsinki Watch Group—the lone group fighting for human rights in the U.S.S.R.

Before Lisa returned to the United States, she promised Inna she would do all she could to get her out of Moscow. But Lisa was one person, what could she possibly do that would make a difference? Inspired by her faith and rights as an American, Lisa staged a hunger strike, held press conferences, and galvanized American politicians to demand Inna's immediate release.

In this heartfelt, compassionate, and inspiring narrative, Lisa brings the reader along with her as she learns indelible lessons from her heroic teacher. Inna's greatest lesson—that it is possible to swim through treacherous waters, in daylight, not in despair—is as relevant today as it was during the final years of the Soviet regime. At a time when international strife seems insurmountable and worries at home seem to paralyze, this story will teach people everywhere that it is the courage inside, not the chaos outside, that defines us.
Skyhorse, 9781616082031, 304pp.
Publication Date: February 8, 2011
About the Author
Lisa C. Paul lived and worked in Moscow from 1983 to 1985. She's also worked for a landmark conference on U.S.-Soviet relations in Washington, D.C., and later took a job at the American Committee on U.S.-Soviet Relations until 1990. She is currently an attorney, and lives with her husband and two daughters.
or
Not Currently Available for Direct Purchase