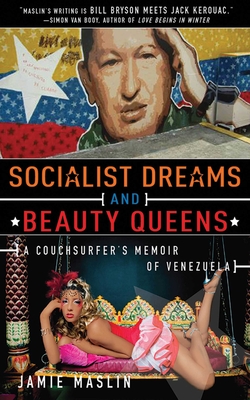 Socialist Dreams and Beauty Queens: A Couchsurfer's Memoir of Venezuela (Hardcover)
A Couchsurfer's Memoir of Venezuela
Skyhorse Publishing, 9781616082215, 284pp.
Publication Date: June 1, 2011
Description
Couchsurfer, hitchhiker, and rogue wanderer Jamie Maslin embarks on a couchsurfing adventure to the homeland of "firebrand," "populist," "anti-American" president Hugo Chavez: the Bolivarian Republic of Venezuela.
Alone in the crime capital of the world Maslin immediately finds himself in trouble--arrested by knife-wielding police officers and inoculated with an unwanted vaccination. After a terrifying start in Caracas, he soon leaves the teeming city and travels to the places tourists never see, staying on the couches of people he befriended online just days earlier, and meeting everyone from fervent social revolutionaries to the country's wealthy elite. He sets off in search of mile-high waterfalls, flat topped jungle plateaus, rolling deserts, and the famous lightning that appears suddenly in the sky with no rain or thunder. Visiting sprawling slums and opulent mansions, Maslin offers a fascinating and timely social, cultural, and histori- cal introduction to a country increasingly in the headlines.
Often irreverent, frequently informative, and habitually funny, this is the remarkable account of a young adventurer's journey through a breathtakingly beautiful and dynamic country where the politics of oil and social revolution are never far from the surface. 24 full-color photographs
Advertisement