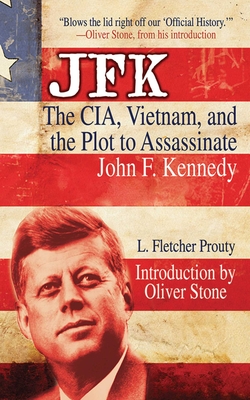 JFK (Paperback)
The CIA, Vietnam, and the Plot to Assassinate John F. Kennedy
Skyhorse, 9781616082918, 440pp.
Publication Date: April 1, 2011
* Individual store prices may vary.
Description
With an Introduction by Oliver Stone, the director of the hit movie JFK and a Foreword by Jesse Ventura, author of the New York Times Bestseller, They Killed our President, here is an insider's view of JFK, the CIA, Vietnam and the plot that led to the assassination of President John F. Kennedy.

Colonel L. Fletcher Prouty, the former CIA operative known as "X," offers a history-shaking perspective on the assassination of president John F. Kennedy. His theories were the basis for Oliver Stone's controversial movie JFK.

Prouty believed that Kennedy's death was a coup d'état, and he backs this belief up with his knowledge of the security arrangements at Dallas and other tidbits that only a CIA insider would know (for example, that every member of Kennedy's cabinet was abroad at the time of Kennedy's assassination). His discussion of the elite power base he believes controlled the U.S. government will scare and enlighten anyone who wants to know who was really behind the assassination of John F. Kennedy.

This is must reading for anyone who believes that Lee Harvey Oswald did not act along and that a complicated plot led to the murder of President Kennedy.
About the Author
Academy Award-winning Oliver Stone has written and directed over 25 feature films and 6 documentaries, among them some of the most influential and iconic films of the last decades. Some have been at deep odds with conventional myth— films such as Platoon, Born on the Fourth of July, JFK, Natural Born Killers, Nixon, and Untold History of the United States.

Jesse Ventura is the former independent governor of Minnesota. He is also a former US Navy frogman, a professional wrestler, a movie actor, a visiting fellow at Harvard Kennedy School of Government, and the New York Times bestselling author of seven books, including American Conspiracies, 63 Documents the Government Doesn't Want You to Read, and Don't Start the Revolution Without Me! He was the host and executive producer of truTV's Conspiracy Theory with Jesse Ventura, which won the Stony Award from High Times magazine in 2010. He was also the host of the political talk show Off The Grid, which aired on RT America and online at Ora.tv. He has a reputation as a rebel and a freethinker, and he has no qualms about questioning authority. He spends half the year in Baja, Mexico and the other half in his home state of Minnesota.