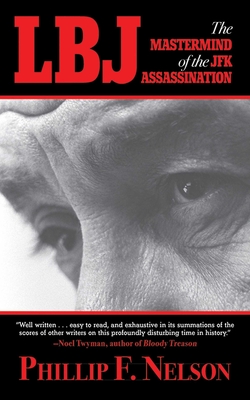 LBJ (Hardcover)
The Mastermind of the JFK Assassination
Skyhorse, 9781616083779, 656pp.
Publication Date: November 22, 2011
Other Editions of This Title:
Paperback (7/1/2013)
Hardcover (11/18/2014)
Paperback (7/1/2010)
* Individual store prices may vary.
Description
LBJ aims to expose Vice President Johnson's active role in the assassination of President Kennedy and how he began planning his takeover of the U.S. presidency even before being named the vice presidential nominee in 1960. Lyndon B. Johnson's flawed personality and character traits were formed when he was a child, and grew unchecked for the rest of his life as he suffered severe bouts of manic depression and bipolar disorder. He successfully hid this disorder from the public as he bartered, stole, and finessed his way through the corridors of power on Capitol Hill—though records have been uncovered proving some of his aides knew of his mental illness.

Phillip F. Nelson, after years of researching Johnson and the JFK assassination, concludes that during his vice presidency Johnson suffered progressively stronger bouts of mental collapse as he was busy undermining Kennedy's domestic and foreign policy initiatives for the purpose of cunningly saving them for his own legacy. His involvement with JFK's assassination is conclusively drawn with both text and photographic evidence showing Johnson's knowledge of when and where the assassination would take place. Nelson's careful and meticulous research has led him to uncover secrets from one of the greatest unsolved mysteries in our country's history.