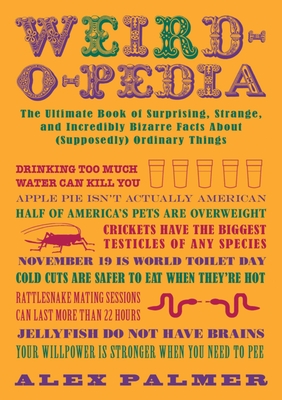 Weird-o-pedia (Paperback)
The Ultimate Book of Surprising Strange and Incredibly Bizarre Facts About (Supposedly) Ordinary Things
Skyhorse, 9781616086480, 224pp.
Publication Date: July 1, 2012
Other Editions of This Title:
Paperback (9/19/2017)
* Individual store prices may vary.
Description
Check out the weird and wonderful facts in this massive encyclopedia of alphabetized oddities:

* HUMANS ARE THE ONLY ANIMALS THAT ENJOY SPICY FOOD (there's a reason no one sells Tabasco-flavored cat food)

* NAPPING CAN SAVE YOU FROM A HEART ATTACK (assuming you are not operating heavy machinery at the time)

* PSYCHOLOGISTS CAN ASSESS YOUR PERSONALITY FROMHOW YOU DIP FRIES IN KETCHUP (nice fries, sociopath)

* SURFING THE INTERNET ACTUALLY MAKES YOU SMARTER (but not as smart as reading this book will)

Now the next time someone tells you smugly that Pluto isn't a planet,you can counter with any one of these hundreds of weird facts and remain king or queen of the cocktail (or kegger) chatter.