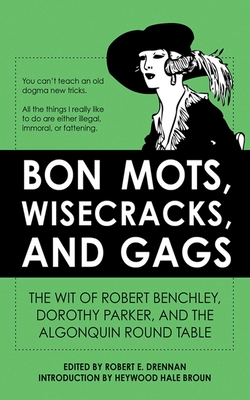 Bon Mots, Wisecracks, and Gags
The Wit of Robert Benchley, Dorothy Parker, and the Algonquin Round Table
Paperback

* Individual store prices may vary.
Description
"Stop looking at the world through rose-colored bifocals." "His mind is so open, the wind whistles through it." "You can't teach an old dogma new tricks." Ever wonder where these sayings came from? For decades, the dining room of New York's legendary Algonquin Hotel was a hub of letters and humor. Cocktails were swilled as writers, humorists, actors, and critics poked fun at culture, the arts, and one another. In this lively tribute, today's readers will come to understand why Robert Benchley, George S. Kaufman, and Dorothy Parker represent the epitome of quips and comebacks—wit that still packs a punch decades later.
Skyhorse, 9781616087135, 176pp.
Publication Date: August 1, 2012