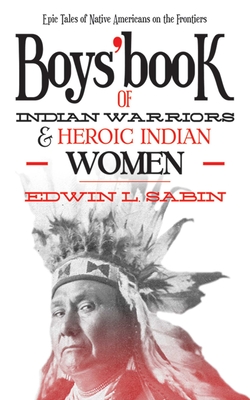 Boys' Book of Indian Warriors and Heroic Indian Women (Paperback)
Epic Tales of Native Americans on the Frontiers
Skyhorse, 9781616088194, 352pp.
Publication Date: February 8, 2013
Other Editions of This Title:
Paperback (4/16/2010)
Paperback (4/22/2018)
* Individual store prices may vary.
Description
There is nothing more inspiring or more tragic than the bloody and brave history of Native American warriors and the heroic deeds of the women who supported them. Fighting against incredible odds, hopelessly outnumbered and outgunned, and subjected to deadly diseases brought by hostile invaders, the Native Americans fought on almost to the last man, woman, and child. This book, put together by the late Edwin Sabin, gives a thorough yet readable account of the awesome feats of the great warrior leaders of the people that occupied and cultivated America thousands of years before the white man stumbled upon it by mistake.

With illustrations of historical figures, Boys' Book of Indian Warriors brings the past into the present as you read about the Terror of New England and the Bloody Belt of Pontiac and gaze upon the faces of King Philip the Wampanoag and Pontiac himself. When the Europeans first came to North America, the Native Americans already had their own disparate nations, their own distinct cultures, and their own history. This book fills in the historical narrative of the Native Americans from 1644 to the Battle of the Little Bighorn in 1876 and the death of Sitting Bull in 1890, a history that is often overlooked and marginalized by modern textbooks.
or
Not Currently Available for Direct Purchase