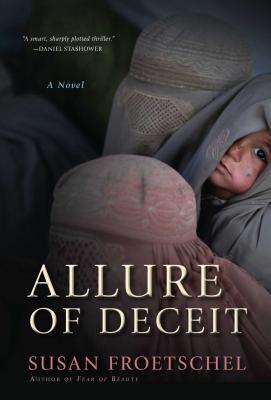 Allure of Deceit
Paperback

* Individual store prices may vary.
Description
A young inventor and his wife are killed in a terrorist attack—leaving behind a will that surprises friends and parents by directing a vast fortune toward charities in the developing world. On the ground in Afghanistan, international charities rapidly search for Afghan partners to compete for the attention of the new foundation, focusing their efforts on two particular women in the village of Laashekoh: a young mother who might have been wrongly imprisoned for her role in helping to run a child-trafficking ring; and an older, educated woman who has a reputation for providing reproductive healthcare—including abortions. Meanwhile, most Laashekoh villagers do not want Western charity and are astounded to be regarded as potential recipients; they are self-sufficient and see no need for outside intervention in village concerns. But when a group of orphanage workers visiting the village goes missing, foul play is immediately suspected and the villagers face tough questions. As Afghans and Westerners work to uncover the truth, the reputations of charity workers, potential beneficiaries, and locals in Laashekoh are called into question. The stakes are high, the sums of money are huge, and cultures clash. All these are motivations for fraud and murder in Allure of Deceit.
Praise For Allure of Deceit…
Praise for Allure of Deceit:

"A smart, sharply plotted thriller that puts the reader on the ground in Afghanistan. Susan Froetschel delivers."
—DANIEL STASHOWER, author of The Hour of Peril

"Allure of Deceit is a complex stew of hidden ambitions, good intentions and lies that unravel to devastating consequences. This novel captures the reader in much the same way as an intricate puzzle." 
–CALLIOPE

"Celebrity philanthropy. Baby trafficking. A mysterious compound in the Afghanistan mountains. Allure of Deceit is an IED of a novel. Trust no one, and step carefully."
—MARTIN J. SMITH, author of the Memory Series crime novels, including the Edgar Award nominee Straw Men

"Froetschel's crystal clear picture of Afghanistan and its people fascinates me. Though her characters' lives differ from ours, they are like us in the ways that really matter. They laugh, they love, they seek answers when things puzzle them. This is a mystery with a stunning sense of place."
—PEG HERRING, author of the Loser Mysteries

"In Allure of Deceit, Susan Froetschel brings alive a country foreign to many readers. This provocative novel blends social conscience, long-held secrets, murder, and the reality of village mores."
—MIKE BEFELER, author of Mystery of the Dinner Playhouse


Praise for Fear of Beauty: 

♦ 2014 Mary Higgins Clark Award Nominee 
♦ 2014 Love Is Murder Best Suspense Lovey Nominee
♦ 2014 National Federation of Press Women Communications 2nd Place Winner for Best Novel For Adult Readers 
 
"An exceptionally well-written tale of love, loss, trust, and greed with appeal that reaches far beyond mystery fans." —Publishers Weekly 

"A great societal thriller…. Action-packed, readers will feel they are in [Afghanistan]…. One of the top novels of the year…." —Mystery Gazette

"This fictional woman halfway across the world isn't so different from you and me. Froetschel has great respect for the Afghan culture and deftly provides a slice-of-life tale that moves, informs and even surprises." —Shelf Awareness
 
"Froetschel pulls the reader in almost from the first word with her dynamic plot twists."
—Women's Book Reviews
 
"Susan Froetschel makes the Afghanistan conflict real on a personal level, in a tale rich with thought-provoking themes. . . . Fear of Beauty is a wonderful novel."
—Sandra Parshall, Agatha Award-winning author of Bleeding Through

"Froetschel is a superb storyteller. She brings the rugged beauty of Afghanistan, its simple folk, and its many dangers together in a spine-tingling tale."
—Nayan Chanda, author of Bound Together
Seventh Street Books, 9781616140175, 271pp.
Publication Date: February 3, 2015
About the Author
Susan Froetschel is the author of four previous novels—Fear of Beauty (named top mystery/suspense by the Military Writers Society of America and nominated for a Mary Higgins Clark Award), Alaska Gray, Interruptions, and Royal Escape. She has taught at Yale University and Southern Connecticut State University. She lives in Michigan and is currently an editor with YaleGlobal Online at Yale University's MacMillan Center for International Studies.
or
Not Currently Available for Direct Purchase