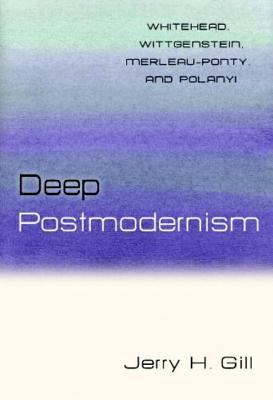 Deep Postmodernism: Whitehead, Wittgenstein, Merleau-Ponty, and Polanyi (Hardcover)
Whitehead, Wittgenstein, Merleau-Ponty, and Polanyi
Humanity Books, 9781616141769, 172pp.
Publication Date: May 25, 2010
* Individual store prices may vary.
or
Not Currently Available for Direct Purchase
Description
In this critical assessment of postmodernism, philosopher Jerry H. Gill points out that, however insightful the critiques of the postmodernists, they did little or nothing to offer constructive approaches to overcoming the impasse that their criticism of modernism created. Gill turns to an earlier generation of twentieth-century philosophers who anticipated later postmodern trends but offered alternative approaches to the dilemmas of modernism regarding the nature of reality, knowledge, and language.
In four major chapters, Gill shows how Alfred North Whitehead, Ludwig Wittgenstein, Maurice Merleau-Ponty, and Michael Polanyi reinterpreted reality, meaning, the mind-body problem, and knowledge in refreshingly new ways. Essentially, these four thinkers provide us with a deeper understanding of postmodernism by viewing the nature of reality as interactive and open-ended, meaning as contextual and functional, the role of the body as integral and axial, and knowledge as dynamic and tacit. To tie together the main themes of his study, Gill concludes with a brief analysis of the key insights offered by J. L. Austin, especially his "linguistic phenomenology.
About the Author
Jerry H. Gill (Vail, AZ) is professor emeritus of philosophy and religious studies at the College of Saint Rose in Albany, NY, and the author of 16 books and more than 100 articles on philosophy and religion.
Advertisement