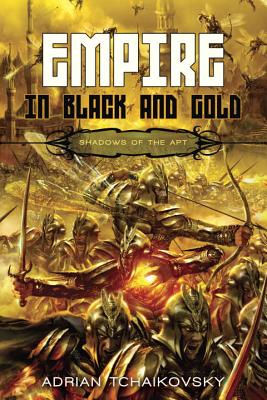 Empire in Black and Gold (Shadows of the Apt)
Paperback

* Individual store prices may vary.
Description
The city states of the Lowlands have lived in peace for decades, bastions of civilization, prosperity and sophistication, protected by treaties, trade and a belief in the reasonable nature of their neighbors. But meanwhile, in far-off corners, the Wasp Empire has been devouring city after city with its highly trained armies, its machines, it killing Art . . . And now its hunger for conquest and war has become insatiable. Only the aging Stenwold Maker, spymaster, artificer and statesman, can see that the long days of peace are over. It falls upon his shoulders to open the eyes of his people, before a black-and-gold tide sweeps down over the Lowlands and burns away everything in its path. But first he must stop himself from becoming the Empire's latest victim.
Pyr, 9781616141929, 415pp.
Publication Date: March 23, 2010
About the Author
Adrian Tchaikovsky was born in Woodhall Spa, Lincolnshire before heading off to Reading to study psychology and zoology. For reasons unclear even to himself he subsequently ended up in law and has worked as a legal executive in both Reading and Leeds, where he now lives. Married, he is a keen live role-player and occasional amateur actor, has trained in stage-fighting, and keeps no exotic or dangerous pets of any kind, possibly excepting his son. Catch up with Adrian at www.shadowsoftheapt.com for further information about both himself and the insect-kinden, together with bonus material including short stories and artwork.
or
Not Currently Available for Direct Purchase