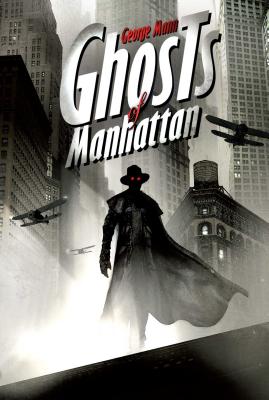 Ghosts of Manhattan
Paperback

* Individual store prices may vary.
Description
1926. New York. The Roaring Twenties. Jazz. Flappers. Prohibition. Coal-powered cars. A cold war with a British Empire that still covers half of the globe. Yet things have developed differently from established history. America is in the midst of a cold war with a British Empire that has only just buried Queen Victoria, her life artificially preserved to the age of 107. Coal-powered cars roar along roads thick with pedestrians, biplanes take off from standing with primitive rocket boosters, and monsters lurk behind closed doors and around every corner. This is a time in need of heroes. It is a time for The Ghost. A series of targeted murders are occurring all over the city, the victims found with ancient Roman coins placed on their eyelids after death. The trail appears to lead to a group of Italian-American gangsters and their boss, who the mobsters have dubbed 'The Roman'. However, as The Ghost soon discovers, there is more to The Roman than at first appears, and more bizarre happenings that he soon links to the man, including moss-golems posing as mobsters and a plot to bring an ancient pagan god into the physical world in a cavern beneath the city. As The Ghost draws nearer to The Roman and the center of his dangerous web, he must battle with foes both physical and supernatural and call on help from the most unexpected of quarters if he is to stop The Roman and halt the imminent destruction of the city.
Pyr, 9781616141943, 237pp.
Publication Date: April 27, 2010
About the Author
George Mann is the author of The Affinity Bridge, The Osiris Ritual and The Human Abstract, as well as numerous short stories, novellas and an original Doctor Who audiobook. He has edited a number of anthologies including The Solaris Book of New Science Fiction, The Solaris Book of New Fantasy and a retrospective collection of classic Sexton Blake stories, Sexton Blake, Detective. He lives near Grantham, UK, with his wife, son and daughter. Follow him on Twitter at twitter.com/George_Mann.
or
Not Currently Available for Direct Purchase