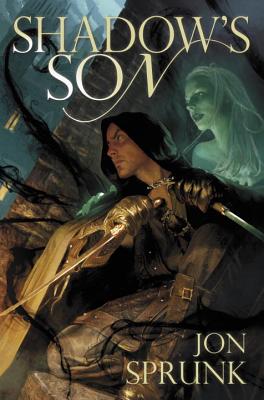 Shadow's Son (Shadow Saga) (Paperback)
Pyr, 9781616142018, 279pp.
Publication Date: June 22, 2010
* Individual store prices may vary.
Description
In the holy city of Othir, treachery and corruption lurk at the end of every street, just the place for a freelance assassin with no loyalties and few scruples. Caim makes his living on the edge of a blade, but when a routine job goes south, he is thrust into the middle of an insidious plot. Pitted against crooked lawmen, rival killers, and sorcery from the Other Side, his only allies are Josephine, the socialite daughter of his last target, and Kit, a guardian spirit no one else can see. In this fight for his life, Caim only trusts his knives and his instincts, but they won't be enough when his quest for justice leads him from Othir's hazardous back alleys to its shining corridors of power. To unmask a conspiracy at the heart of the empire, he must claim his birthright as the Shadow's Son. . . .

About the Author
Jon Sprunk is the author of Shadow's Son. He lives in central Pennsylvania with his wife and son. When not writing, he enjoys travel, collecting medieval and ancient weaponry, and pro football. Visit him online at www.jonsprunk.com, on Facebook (JonSprunkAuthor), or on Twitter (jsprunk70).
Praise For Shadow's Son (Shadow Saga)…
"The intrigue, action scenes, and ever-more-revealing character insights are masterfully woven together in a book the reader won't want to put down.... A first-rate sword-and-sorcery tale, with intriguing characters, that moves at a fast pace."
–Booklist

"I am a sucker for a great assassin story and Shadow's Son delivers. Lots of great action with some well-developed characters in a believable society made for a very fast and entertaining read…. [It] reminds me of Brent Weeks' Night Angel Trilogy or David Gemmell.... Sprunk is now on my must read list. Great debut novel."
–Speculative Book Review

"This addition to the sword-and-sorcery genre features both action and magic as well as a tale of unrequited love and unlikely lovers."
–Library Journal

"Any good sword and sorcery story worth its salt has strong writing in it's action scenes.... Shadow's Son delivers impeccably.... [It] never, ever, gets dull.... A shining beacon of the new crop of sword and sorcery novels." 
–SF Signal

"A fast-paced yet evocative narrative that keeps you turning those pages…. An action-packed and fun read." 
–Pat's Fantasy Hotlist

"We'll read [Sprunk's] stuff readily, every time. So should you."
–Elitist Book Review
or
Not Currently Available for Direct Purchase