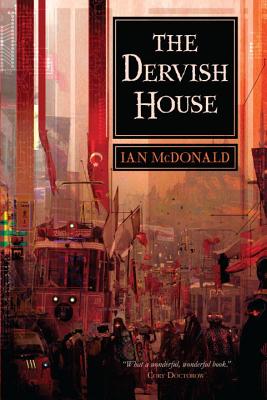 The Dervish House (Hardcover)
Pyr, 9781616142049, 359pp.
Publication Date: July 27, 2010
* Individual store prices may vary.
or
Not Currently Available for Direct Purchase
Description
It begins with an explosion. Another day, another bus bomb. Everyone it seems is after a piece of Turkey. But the shockwaves from this random act of 21st century pandemic terrorism will ripple further and resonate louder than just Enginsoy Square.
Welcome to the world of The Dervish House the great, ancient, paradoxical city of Istanbul, divided like a human brain, in the great, ancient, equally paradoxical nation of Turkey. The year is 2027 and Turkey is about to celebrate the fifth anniversary of its accession to the European Union.
This is the age of carbon consciousness: every individual in the EU has a card stipulating individual carbon allowance that must be produced at every CO2 generating transaction. For those who can master the game, who can make the trades between gas price and carbon trading permits, who can play the power factions against each other, there are fortunes to be made. The old Byzantine politics are back. They never went away.
The ancient power struggled between Sunni and Shia threatens like a storm: Ankara has watched the Middle East emerge from twenty-five years of sectarian conflict. So far it has stayed aloof. A populist Prime Minister has called a referendum on EU membership. Tensions run high. The army watches, hand on holster. And a Galatasary Champions League football game against Arsenal stokes passions even higher.
The Dervish House is seven days, six characters, three interconnected story strands, one central common core the eponymous dervish house, a character in itself that pins all these players together in a weave of intrigue, conflict, drama and a ticking clock of a thriller.
About the Author
Ian McDonaldis the author ofPlanesrunner, Be My Enemy, andEmpress of the Sun, in the Everness series. He has written thirteen science fiction novels--including the 2011 John W. Campbell Memorial Award winner for Best Novel, The Dervish House--as well asBrasyl, River of Gods, Cyberabad Days, Ares Express, Desolation Road, King of Morning, Queen of Day, Out on Blue Six, Chaga, andKirinya.He's been nominated for every major science fiction award, and even won some. McDonald also works in television and in program development--all those reality shows have to come from somewhere--and has written for screen as well as print. He lives in Northern Ireland, just outside Belfast, and loves to travel."
Praise For The Dervish House…
"McDonald creates a magnificent knot of intrigue, thrills, and daring adventures, with the flair for character and setting that makes his tales so satisfying to indulge in."
-Booklist

"An audacious look at the shift in the power centers of the world and an intense vision of one possible future."
-New York Times Book Review

"This twisting, turning, part futuristic fantasy, part intuitive prediction satisfies without divulging all its secrets, just like the city."
-Time Out Istanbul

"As close to perfection as a book can get. . . . If you only have money to buy a single sci-fi novel this year, this has to be it. Impossible to put down."
-Pat's Fantasy Hotlist

"The complex plot and its unique characters make for an intriguing read. McDonald weaves several plotlines together with a whirling dervish house, a character in its own right, as the common denominator."
-RT Book Reviews, 4 stars  

"In the end, spending some time with these six characters in the fascinating city of Istanbul was pure enjoyment. Look for The Dervish House on the shortlists of the major SF&F awards next year. Highly recommended. 41/2 out of 5 stars"
-Fantasy Literature 

"The Dervish House cements Ian McDonald's status as a first class talent, and one of my all-time favorite authors. He continues to depict the future of non-western cultures with creativity, depth, and verve. His prose is a delight to read, his characters are lively and authentic, and he can pull you in to a near-future setting like no one else I know. I'd recommend this book to pretty much everyone."
-SF Revu 

"A rich, accomplished portrait of near-future Istanbul that may be is the best thing McDonald has written—and that's saying something. It is the product of a writer at the top of his game: beautifully styled, complexly characterized and plotted without ever feeling heavy or dull...half a dozen storylines are coiled together as neatly as DNA, each of them compelling and readable. McDonald manages to avoid the traps of condescension, or Orientalism, that lie in wait for the white Westerner writing about places that are neither of those things. A dervishly good book."
- Locus 

"First, let's get one thing out of the way. Every book I've read in the last several months has been completely overshadowed — perhaps unfairly — by Ian McDonald's The Dervish House. He's the kind of writer who has the power to alter your whole vision of what science fiction can be and do. Last year's Cyberabad Days was among the most ferociously intelligent novels I've read in years, in any genre. And The Dervish House is even better. After reading a book like that, it's hard to get excited about merely good sf novels. Or even genuinely excellent ones...This is what science fiction should be... McDonald has done the seemingly impossible. He has written a compelling, action-packed sf novel about the future of AI-based quantitative trading... But it's no fantasy: it's the reality that's breathing down the backs of our necks every workday. And McDonald extrapolates from it with dizzying virtuosity...More than any other sf writer I can think of, McDonald has a complex, nuanced, fundamentally real vision of the way power works in the world."
-Fantasy & Science Fiction
Advertisement