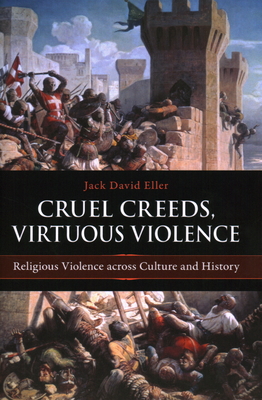 Cruel Creeds, Virtuous Violence: Religious Violence Across Culture and History (Hardcover)
Religious Violence Across Culture and History
Prometheus Books, 9781616142186, 451pp.
Publication Date: November 1, 2010
* Individual store prices may vary.
or
Not Currently Available for Direct Purchase
Description
This illuminating, in-depth study presents a wealth of case material, demonstrating the many manifestations of religious violence--not just war and terrorism, which are the focus of so many discussions of religiously motivated violence--but also more prevalent forms. The author, an anthropologist, devotes separate chapters to:
- sacrifice (both animal and human);
- self-mortification (including self-injury, asceticism, and martyrdom);
- religious persecution (from anti-Semitic pogroms to witchhunts);
- ethno-religious conflict (including such hotspots as Sri Lanka, Northern Ireland, and the former Yugoslavia);
- religious wars (from the ancient Hebrews' wars and the Christian Crusades to Islamic jihad and Hindu righteous wars);
- and religious homicide and abuse (spousal abuse, genital mutilation, and "dowry death," among other manifestations).
In the final chapter, "Religion and Nonviolence," the author examines nonviolent and low-conflict societies and considers various methods of managing conflict.
This book goes a long way toward helping us understand the nature of violence generally, its complicated connections with religion, and how society in the future might avoid being blindsided by the worst aspects of human nature.
About the Author
Jack David Eller, PhD (Denver, CO), is the author of six other books, including "Cultural Anthropology: Global Forces, Local Lives" and "Introducing Anthropology of Religion: Culture to the Ultimate." He is an assistant professor of anthropology at the Community College of Denver and the film editor for the Anthropology Review Database.
Praise For Cruel Creeds, Virtuous Violence: Religious Violence Across Culture and History…
"This is an important contribution to understanding both the attraction and repulsion that religion conjures up among human beings. The author painstakingly and objectively covers the full spectrum of personal and mass violence associated with the whole gamut of the world's religions, past and present."
–Barry A. Kosmin, director, Institute for the Study of Secularism in Society & Culture

"You don't have to agree with every word of the author's argument to appreciate the complex and often troubling questions that Dr. Eller raises about the nature of religion, and the potential of so many faith traditions to produce violence, abuse and exploitation. Passionately written, Cruel Creeds, Virtuous Violence is a wide-ranging and obviously timely, text."
–Philip Jenkins, author and Edwin Erle Sparks Professor of Humanities, Pennsylvania State University
Advertisement