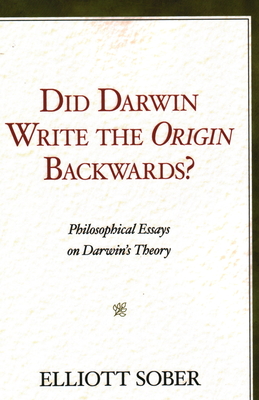 Did Darwin Write the Origin Backwards? (Paperback)
Philosophical Essays on Darwin's Theory (Prometheus Prize)
Prometheus Books, 9781616142308, 230pp.
Publication Date: December 1, 2010
* Individual store prices may vary.
or
Not Currently Available for Direct Purchase
Description
Is it accurate to label Darwin's theory "the theory of evolution by natural selection," given that the concept of common ancestry is at least as central to Darwin's theory? Did Darwin reject the idea that group selection causes characteristics to evolve that are good for the group though bad for the individual? How does Darwin's discussion of God in The Origin of Species square with the common view that he is the champion of methodological naturalism? These are just some of the intriguing questions raised in this volume of interconnected philosophical essays on Darwin. The author's approach is informed by modern issues in evolutionary biology, but is sensitive to the ways in which Darwin's outlook differed from that of many biologists today. The main topics that are the focus of the book--common ancestry, group selection, sex ratio, and naturalism--have rarely been discussed in their connection with Darwin in such penetrating detail.
Author Professor Sober is the 2008 winner of the Prometheus Prize. This biennial award, established in 2006 through the American Philosophical Association, is designed "to honor a distinguished philosopher in recognition of his or her lifetime contribution to expanding the frontiers of research in philosophy and science." This insightful collection of essays will be of interest to philosophers, biologists, and laypersons seeking a deeper understanding of one of the most influential scientific theories ever propounded.
About the Author
Elliott Sober is Hans Reichenbach Professor and William F. Vilas Research Professor in the Philosophy Department at the University of Wisconsin, Madison. He is the author of nine other books, including Evidence and Evolution: The Logic Behind the Science and Reconstructing the Past: Parsimony, Evolution, and Inference, which won the prestigious Lakatos Prize in the Philosophy of Science.
Praise For Did Darwin Write the Origin Backwards?: Philosophical Essays on Darwin's Theory (Prometheus Prize)…
"Few philosophers of science command the respect that Elliott Sober enjoys for the rigor of his investigations into the logic of evolutionary biology. In his latest, enthralling book he argues that Darwin's theory is best described not as evolution by natural selection but as common ancestry plus natural selection. . . . Accessible, lively, controversial, this is a book full of good things, including a fresh look at Darwin's position on group selection."
John Hedley Brooke, Andreas Idreos Professor of Science and Religion and director of the Ian Ramsey Centre, University of Oxford

"Philosophical essays are frequently enlightening but rarely entertaining. Elliott Sober's Did Darwin Write the "Origin" Backwards? succeeds at being philosophically sophisticated, historically informative, and thoroughly enjoyable. Even readers who think they know their Darwin will learn much from this book."
Ronald L. Numbers, Hilldale Professor of the History of Science and Medicine,University of Wisconsin–Madison
Advertisement