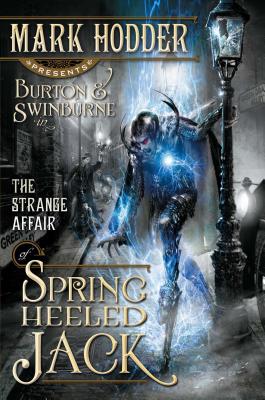 The Strange Affair of Spring Heeled Jack (A Burton & Swinburne Adventure #1) (Paperback)
Pyr, 9781616142407, 373pp.
Publication Date: September 1, 2010
Other Editions of This Title:
Hardcover (4/5/2010)
MP3 CD (7/26/2016)
* Individual store prices may vary.
Description
London, 1861. Sir Richard Francis Burton - explorer, linguist, scholar, and swordsman; his reputation tarnished; his career in tatters; his former partner missing and probably dead. Algernon Charles Swinburne - unsuccessful poet and follower of de Sade, for whom pain is pleasure, and brandy is ruin! They stand at a crossroads in their lives and are caught in the epicenter of an empire torn by conflicting forces: Engineers transform the landscape with bigger, faster, noisier, and dirtier technological wonders; Eugenicists develop specialist animals to provide unpaid labor; Libertines oppose repressive laws and demand a society based on beauty and creativity; while the Rakes push the boundaries of human behavior to the limits with magic, drugs, and anarchy. The two men are sucked into the perilous depths of this moral and ethical vacuum when Lord Palmerston commissions Burton to investigate assaults on young women committed by a weird apparition known as Spring Heeled Jack, and to find out why werewolves are terrorizing London's East End. Their investigations lead them to one of the defining events of the age, and the terrifying possibility that the world they inhabit shouldn't exist at all!
About the Author
Mark Hodder is the author of The Strange Affair of Spring Heeled Jack-winner of the Philip K. Dick Award 2010-and its sequel, The Curious Case of the Clockwork Man. He's the creator and caretaker of the Blakiana website (http://www.sextonblake.co.uk), which he designed to celebrate, record, and revive Sexton Blake, the most written-about fictional detective in English publishing history. A former BBC writer, editor, journalist, and Web producer, Mark has worked in all the new and traditional medias and was based in London for most of his working life until 2008, when he relocated to Valencia in Spain to de-stress and write novels. He has a degree in cultural studies and loves British history (1850 to 1950, in particular), good food, cutting-edge gadgets, cult TV (ITC forever!), Tom Waits, and a vast assortment of oddities.
Praise For The Strange Affair of Spring Heeled Jack (A Burton & Swinburne Adventure #1)…
Praise for the Philip K. Dick Award-winning Burton & Swinburne books:

"The usual superlatives for really clever fantasy (imaginative, mind-bending, phantasmagorical) aren't nearly big enough for this debut novel. With this one book, Hodder has put himself on the genre map."
-Booklist, starred review of The Strange Affair of Spring-Heeled Jack

"Hodder, with an encyclopedic grasp of period detail, tellingly brings these disparate, oddly familiar yet eerily different worlds to fecund life. Enthralling, dizzying, and as impressive as they come."
-Kirkus Reviews, starred review

"Every once in a while I come across a book, or series of books, that totally yanks the carpet out from under me. Then it reaches out, smashes me in the face with its awesomeness, and says, 'You love me!' Leaving me with naught to do but obligingly respond, 'Yes. Yes I do.' [The Curious Case of the Clockwork Man] was every bit the book that I had hoped it would be."
-Elitist Book Reviews

"Whatever one chooses to call [The Strange Affair of Spring Heeled Jack], it would be very difficult to deny its overwhelming brilliance. I can't remember the last time a novel has surprised, awed, and enthused me so utterly that I'm almost left at a loss for words for how to recommend it."
-Rob Will Review