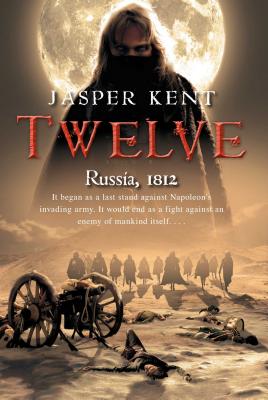 Twelve (Danilov Quintet)
Paperback

* Individual store prices may vary.
Description
The voordalak—a creature of legend, the tales of which have terrified Russian children for generations. But for Captain Aleksei Ivanovich Danilov—a child of more enlightened times—it is a legend that has long been forgotten. Besides, in the autumn of 1812, he faces a more tangible enemy: the Grande Armée of Napoleon Bonaparte. City after city has fallen to the advancing French, and it now seems that only a miracle will keep them from Moscow itself. In desperation, Aleksei and his comrades enlist the help of the Oprichniki—a group of twelve mercenaries from the furthest reaches of Christian Europe, who claim that they can turn the tide of the war. It seems an idle boast, but the Russians soon discover that the Oprichniki are indeed quite capable of fulfilling their promise … and much more. Unnerved by the fact that so few can accomplish so much, Aleksei remembers those childhood stories of the voordalak. And as he comes to understand the true, horrific nature of these twelve strangers, he wonders at the nightmare they've unleashed in their midst.... Full of historical detail, thrilling action, and heart-stopping supernatural moments, Twelve is storytelling at its most original and exciting.
Pyr, 9781616142414, 447pp.
Publication Date: September 1, 2010
About the Author
Jasper Kent was born in Worcestershire, England, in 1968. He attended King Edward's School, Birmingham, and went on to study natural sciences at Trinity Hall, Cambridge, specializing in physics. Jasper has spent almost twenty years working as a software engineer in the UK and in Europe, while also working on writing both fiction and music. In that time, he has produced the novels Twelve, Thirteen Years Later, Yours Etc., Mr. Sunday, and Sifr, as well as cowritten several musicals, including The Promised Land and Remember! Remember! Jasper lives in Brighton, where he shares a flat with his girlfriend and several affectionate examples of the species Rattus norvegicus. Visit Jasper Kent's Web site at www.jasperkent.com.
or
Not Currently Available for Direct Purchase