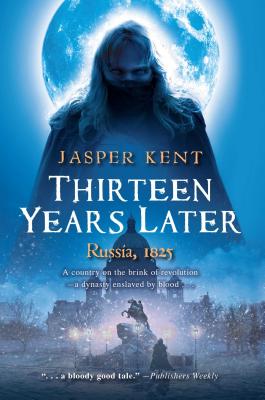 Thirteen Years Later (Danilov Quintet)
Paperback

* Individual store prices may vary.
Description
1825 – Europe and Russia have been at peace for ten years. Bonaparte is long dead and the threat of invasion is no more. For Colonel Aleksei Ivanovich Danilov, life is peaceful. Not only have the French been defeated but so have the twelve monstrous creatures he once fought alongside, and then against, ten or more years ago. His duty is still to serve and to protect his tsar, Aleksandr the First. But now the one who was betrayed by the Romanovs has returned to exact revenge for what has been denied him. And for Aleksei, knowing this chills his very soul. For it seems the vile pestilence that once threatened all he believed in and all he held dear has returned, thirteen years later…
Praise For Thirteen Years Later (Danilov Quintet)…
"In the end, as much as I loved Twelve, I enjoyed Thirteen Years Later just as much, if not more, and if Jasper Kent can continue this high level of excellence in the remaining sequels, then I strongly believe that the Danilov Quintet will end up being one of the best vampire series I have ever read...."
—Fantasy Book Critic

"…impressive historical-horror novel… this book is hugely ambitious and largely successful."
—Publishers Weekly
Pyr, 9781616142537, 511pp.
Publication Date: February 1, 2011
About the Author
Jasper Kent was born in Worcestershire, England, in 1968. He attended King Edward's School, Birmingham, and went on to study natural sciences at Trinity Hall, Cambridge, specializing in physics. Jasper has spent almost twenty years working as a software engineer in the UK and in Europe, while also working on writing both fiction and music. In that time, he has produced the novels Twelve, Thirteen Years Later, Yours Etc., Mr. Sunday, and Sifr, and he has cowritten several musicals, including The Promised Land and Remember! Remember! Jasper lives in Brighton, where he shares a flat with his girlfriend and several affectionate examples of the species Rattus norvegicus. Visit Jasper Kent's Web site at www.jasperkent.com.
or
Not Currently Available for Direct Purchase