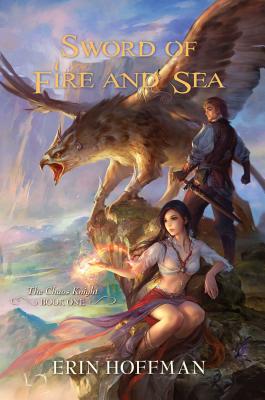 Sword of Fire and Sea (The Chaos Knight #1)
Paperback

* Individual store prices may vary.
Description
Captain Vidarian Rulorat's great-grandfather gave up an imperial commission to commit social catastrophe by marrying a fire priestess. For love, he unwittingly doomed his family to generations of a rare genetic disease that follows families who cross elemental boundaries. Now Vidarian, the last surviving member of the Rulorat family, struggles to uphold his family legacy, and finds himself chained to a task as a result of the bride price his great-grandfather paid: The priestess Endera has called upon Vidarian to fulfill his family's obligation by transporting a young fire priestess named Ariadel to a water temple far to the south, through dangerous pirate-controlled territory. Vidarian finds himself at the intersection not only of the world's most volatile elements, but of the ancient and alien powers that lurk between them...
Praise For Sword of Fire and Sea (The Chaos Knight #1)…
"A fantastic debut novel.... Vividly descriptive, [Hoffman] quickly pulls the reader into her world and it is an interesting one full of gryphons, magic and good old-fashioned pirates. Her characters are well written, engaging, and realistic. …Fans of fantasy series should definitely read this book."
-Portland Book Review

"A swashbuckling fantasy adventure reminiscent of the golden age of high fantasy dominated by the likes of Terry Brooks and Tad Williams. For those of you pining for return of high fantasy adventure, this is it."
-New Myths

"This series debut by video game designer Hoffman features well-drawn characters, both human and mythical… Introducing a world of elemental magic, intelligent gryphons, and warring forces, this fantasy adventure is suitable for both YA and adult readers."
-Library Journal

"Both a modern and old-school high fantasy novel that only scratches the surface of a diverse and interesting world.... [With] Fire priestesses, gryphons, mind magic using mages, Goddesses, magic weapons, Air knights.... I was entertained and thoroughly amazed by the imagination that Hoffman brings to her writing…. Hoffman is a talent, there is no denying it. I would definitely like to see much more of the world of Andovar."
-SFSignal
Pyr, 9781616143732, 277pp.
Publication Date: June 21, 2011
About the Author
Erin Hoffman is the author of Sword of Fire and Sea and Lance of Earth and Sky. She was born in San Diego, California, and now lives with her husband, two parrots, and a dog in the San Francisco bay area. Her college degree was eclectic and landed her in the strange waters of video game design, where she tells stories using a diabolical combination of character, controller, and math. Her games have been played by over four million kids and adults worldwide, and she is a graduate of the Odyssey Fantasy Writers Workshop.
or
Not Currently Available for Direct Purchase