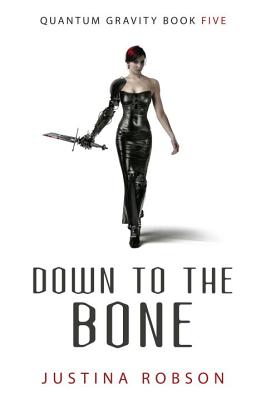 Down to the Bone (Quantum Gravity) (Paperback)
Pyr, 9781616143794, 429pp.
Publication Date: August 23, 2011
* Individual store prices may vary.
Description
Lila Black is now a shapeshifting machine plugged into the Signal—the total dataset of all events in the known universe and all potential events: Zal, the elf rock star with a demon soul, is now a shadowform animated and given material actualization by firelight; Teazle the demon has taken up the swords of Death and is on the way to becoming an angel. To say this puts some pressure on their three-way marriage is an understatement.

Meanwhile the human world is seeing an inexplicable influx of the returning dead, and they're not the only ones. Many old evils are returning to haunt the living following three harbingers of destruction created in the ancient past. What seems epic is revealed as personal to all concerned as events unfold and that which cannot be escaped must be faced.

Heroic destinies unravel as greater powers reveal themselves the true masters of the game and survival may be the only winning hand.
About the Author
Justina Robson is the author of Keeping It Real, Selling Out, Going Under, and Chasing the Dragon (Books one through four of the Quantum Gravity series). Her first novel, Silver Screen, published in 1999 in the UK and in 2005 by Pyr, was short-listed for the Arthur C. Clarke Award and the BSFA Award, and was nominated for the Philip K. Dick award. Her second novel, Mappa Mundi, together with Silver Screen, won the Amazon.co.uk Writer's Bursary in 2000 and was also short-listed for the Arthur C. Clarke Award in 2001. A third novel, Natural History, a far-future novel, placed second in the 2004 John W. Campbell Award, was short-listed for the Best Novel of 2003 in the British Science Fiction Association Awards, and was also nominated for the 2006 Philip K. Dick Award, receiving a special citation. A fourth novel, Living Next Door to the God of Love, was a finalist for the BSFA Award. Visit Justina Robson's Web site at www.JustinaRobson.com.
Praise For Down to the Bone (Quantum Gravity)…
Praise for the Quantum Gravity series:

"An immensely entertaining mixture of rock and roll, introspection, and action."
–Booklist

"For Fans of...Tolkien, had he gone electric, dropped acid, and discovered tantric sex..."
–Entertainment Weekly

"Skillfully builds a seamless connection between sf and fantasy…featuring a strong, action-oriented heroine and a unique world setting. With appeal to fans of contemporary culture and mature YAs..."
–Library Journal

"Fast-paced techno-fantasy [that] will delight fans of manga-influenced action and violence."
–Publishers Weekly
or
Not Currently Available for Direct Purchase