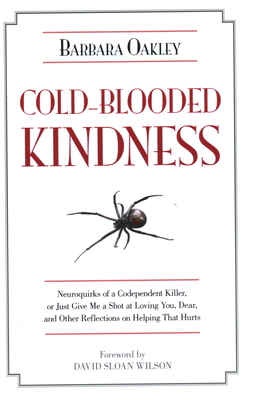 Cold-Blooded Kindness Neuroquirks of a Codependent Killer,: Or Just Give Me a Shot at Loving You, Dear, and Other Reflections on Helping That Hurts (Hardcover)
Or Just Give Me a Shot at Loving You, Dear, and Other Reflections on Helping That Hurts
Prometheus Books, 9781616144197, 387pp.
Publication Date: April 26, 2011
* Individual store prices may vary.
or
Not Currently Available for Direct Purchase
Description
In this searing exploration of deadly codependency, the author takes the reader on a spellbinding voyage of discovery that examines the questions: Are some people naturally too caring? Is caring sometimes a mask for darker motives? Can science help us understand how our concerns for others can hurt everything we hold dear? This gripping story brings extraordinary insight to our deepest questions. Is kindness always the right answer? Is kindness always what it seems?
About the Author
Barbara A. Oakley, PhD (Rochester, MI), is the acclaimed author of Evil Genes: Why Rome Fell, Hitler Rose, Enron Failed, and My Sister Stole My Mother's Boyfriend. She has been dubbed a female Indiana Jones--her writing combines worldwide adventure with solid research expertise. Among other adventures, she has worked as a Russian translator on Soviet trawlers in the Bering Sea, served as radio operator at the South Pole Station in Antarctica, and risen from Private to Regular Army Captain in the US Army. Currently an associate professor of engineering at Oakland University in Michigan, Oakley is a recent vice president of the world's largest bioengineering society and holds a doctorate in the integrative discipline of systems engineering.
Praise For Cold-Blooded Kindness Neuroquirks of a Codependent Killer,: Or Just Give Me a Shot at Loving You, Dear, and Other Reflections on Helping That Hurts…
"Riveting and disturbing…."
-Joyce Carol Oates

"…[A] masterpiece."
-Dr. Helen Smith

"… [A] terrific book."
-Steven Pinker
Advertisement