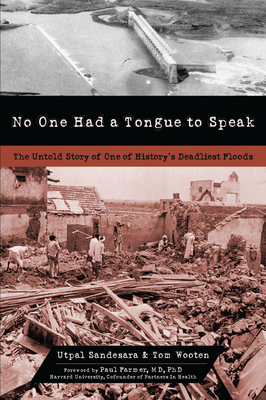 No One Had a Tongue to Speak
The Untold Story of One of History's Deadliest Floods
Hardcover

* Individual store prices may vary.
Description
On August 11, 1979, after a week of extraordinary monsoon rains in the Indian state of Gujarat, the two mile-long Machhu Dam-II disintegrated. The waters released from the dam's massive reservoir rushed through the heavily populated downstream area, devastating the industrial city of Morbi and its surrounding agricultural villages. As the torrent's thirty-foot-tall leading edge cut its way through the Machhu River valley, massive bridges gave way, factories crumbled, and thousands of houses collapsed. While no firm figure has ever been set on the disaster's final death count, estimates in the flood's wake ran as high as 25,000. Despite the enormous scale of the devastation, few people today have ever heard of this terrible event.

This book tells, for the first time, the suspenseful and multifaceted story of the Machhu dam disaster. Based on over 130 interviews and extensive archival research, the authors recount the disaster and its aftermath in vivid firsthand detail. The book presents important findings culled from formerly classified government documents that reveal the long-hidden failures that culminated in one of the deadliest floods in history.

The authors follow characters whose lives were interrupted and forever altered by the flood; provide vivid first-hand descriptions of the disaster and its aftermath; and shed light on the never-completed judicial investigation into the dam's collapse.
Prometheus Books, 9781616144319, 411pp.
Publication Date: May 24, 2011
About the Author
Utpal Sandesara (Philadelphia, PA), the son of a Machhu flood survivor, is pursuing an MD and a PhD in social anthropology at the University of Pennsylvania. As a Harvard Frederick Sheldon Prize Fellow, he worked as a researcher for Peru's Ministry of Health, preparing a report on the integration of prenatal care with testing and treatment of HIV and syphilis in the national health system.

Tom Wooten (New Orleans, LA) teaches writing at KIPP McDonogh 15 School for the Creative Arts in New Orleans as a Teach for America corps member. As a Harvard Kennedy School research fellow, he traveled to New Orleans to conduct interviews with the leaders of the city's neighborhood-based recovery efforts.

While pursuing degrees in Harvard University's Social Studies program, the authors traveled to India, where they did the field research that is the foundation of this book.
or
Not Currently Available for Direct Purchase