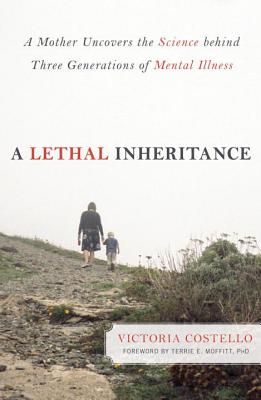 A Lethal Inheritance
A Mother Uncovers the Science Behind Three Generations of Mental Illness
Paperback

* Individual store prices may vary.
Description
Every family has secrets; only some secrets are lethal. In Victoria Costello's family mental illness had been given many names over at least four generations until this inherited conspiracy of silence finally endangered the youngest members of the family, her children.

In this riveting story—part memoir, detective story, and scientific investigation—the author recounts how the mental unraveling of her seventeen-year-old son Alex compelled her to look back into family history for clues to his condition. Eventually she tied Alex's descent into hallucinations and months of shoeless wandering on the streets of Los Angeles to his great grandfather's suicide on a New York City railroad track in 1913.

But this insight brought no quick relief. Within two years of Alex's diagnosis of paranoid schizophrenia, both she and her youngest son succumbed to two different mental disorders: major depression and anxiety disorder.

Costello depicts her struggle to get the best possible mental health care for her sons and herself, treatment that ultimately brings each of them to full recovery. In the process, she discovers new science that explains how clusters of mental illness traverse family generations. Artfully weaving the scientific into the personal, Costello takes a journey to the far reaches of neuroscience and reports back on the startling findings it is yielding about the complex interplay between genes and environment that drives mental illness, and what it now tells us about how parents can trump a lethal inheritance.

She shares the results of long-term U.K. and European family studies identifying the earliest signs of mental illnesses that can be passed on from grandparents to parents and grandchildren. She tracks ongoing clinical trials to reverse the courses of these diseases through early intervention with the latest evidence-based treatments and offers brain-healthy choices individuals and families can make to prevent mental illness—freeing future generations to live healthier, happier lives.
Praise For A Lethal Inheritance: A Mother Uncovers the Science Behind Three Generations of Mental Illness…
"This honest, lucid book examines the urgent problems of family history and early diagnosis in mental illness. . . . It will be invaluable to families trying to understand their own history, and to those who have been blind to such history."
-Andrew Solomon, National Book Award recipient for The Noonday Demon: An Atlas of Depression

"Victoria Costello's sad but gripping account of her family's struggles to reach recovery demonstrates the value of resilience and persistence."
-Paul Raeburn, Former AP chief science correspondent and author of Acquainted with the Night: A Parent's Quest to Understand Depression and Bipolar Disorder in His Children

"A Lethal Inheritance . . . should be required reading for any parent with a family history of mental illness, for pediatricians, and for educators. . . . As a mother, I am grateful to [Costello] for giving me the tools to understand the risks my family history presents to my children. But more importantly, I am grateful to [her] for her insights on how both to avert and to survive a child's mental health crisis."
-Ayelet Waldman, Author of Bad Mother: A Chronicle of Maternal Crimes, Minor Calamities, and Occasional Moments of Grace

"Costello skillfully weaves all the latest medical research with an evocative and moving account of her two sons' descents into the depths of schizophrenia and depression and then moves upward into hope and recovery. . . . A Lethal Inheritance is a graceful balance between science and memoir."
-Linda Gray Sexton, Author of Half in Love: Surviving the Legacy of Suicide

"As a society, we're still on that long journey to understand mental illness, both in an individual and in the spreading circles of its effects on families and on communities. Victoria Costello's compassionate and compelling personal journey through the subject allows us to explore those circles as she does so herself. Read it because the lessons are so valuable—and read it because it's a story so beautifully told."
-Deborah Blum, Pulitzer Prize–winning author of Love at Goon Park: Harry Harlow and the Science of Affection

"Both an affecting chronicle of her family's mental illness and a useful guide to detection and prevention. . . . Costello presents a book of vigorous personal and factual research."
-Publishers Weekly
Prometheus Books, 9781616144661, 267pp.
Publication Date: January 24, 2012
About the Author
Victoria Costello reports on family and children's mental health for Psychology Today online, Yahoo! News Health & Wellness, Mamapedia, and MentalHealthMomBlog. She is the coauthor with child psychiatrist Jack Westman, MD, MS, of A Complete Idiot's Guide to Child and Adolescent Psychology, and with family therapist Stephen Martin of The Everything Parent's Guide to Childhood OCD. As a science journalist, she won an Emmy Award for the Disney Channel special called This Island Earth. With the Mental Health Association of San Francisco, Costello is a speaker, workshop facilitator, and state and federal advocate working to improve the mental health of youth and families.
or
Not Currently Available for Direct Purchase