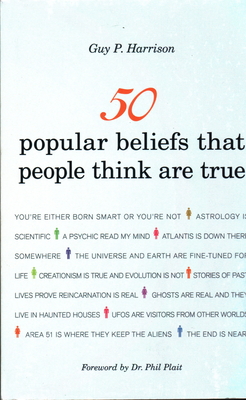 50 Popular Beliefs That People Think Are True (50 Series) (Paperback)
Prometheus Books, 9781616144951, 458pp.
Publication Date: December 20, 2011
* Individual store prices may vary.
Description
"What would it take to create a world in which fantasy is not confused for fact and public policy is based on objective reality?" asks Neil deGrasse Tyson, science popularizer and author of Astrophysics for People in a Hurry. "I don't know for sure. But a good place to start would be for everyone on earth to read this book."  

Maybe you know someone who swears by the reliability of psychics or who is in regular contact with angels. Or perhaps you're trying to find a nice way of dissuading someone from wasting money on a homeopathy cure. Or you met someone at a party who insisted the Holocaust never happened or that no one ever walked on the moon. How do you find a gently persuasive way of steering people away from unfounded beliefs, bogus cures, conspiracy theories, and the like? 

This down-to-earth, entertaining exploration of commonly held extraordinary claims will help you set the record straight. The author, a veteran journalist, has not only surveyed a vast body of literature, but has also interviewed leading scientists, explored "the most haunted house in America," frolicked in the inviting waters of the Bermuda Triangle, and even talked to a "contrite Roswell alien." He is not out simply to debunk unfounded beliefs. Wherever possible, he presents alternative scientific explanations, which in most cases are even more fascinating than the wildest speculation.

For example, stories about UFOs and alien abductions lack good evidence, but science gives us plenty of reasons to keep exploring outer space for evidence that life exists elsewhere in the vast universe. The proof for Bigfoot or the Loch Ness Monster may be nonexistent, but scientists are regularly discovering new species, some of which are truly stranger than fiction.

Stressing the excitement of scientific discovery and the legitimate mysteries and wonder inherent in reality, this book invites readers to share the joys of rational thinking and the skeptical approach to evaluating our extraordinary world.
About the Author
GUY P. HARRISON (San Diego, CA) is an award-winning journalist and the author of Think, 50 Simple Questions for Every Christian, 50 Popular Beliefs That People Think Are True, 50 Reasons People Give for Believing in a God, and Race and Reality: What Everyone Should Know about Our Biological Diversity. Find him on online at www.guypharrison.com, www.facebook.com/guypharrisonauthor, and on Twitter @Harrisonauthor.
Praise For 50 Popular Beliefs That People Think Are True (50 Series)…
"What would it take to create a world in which fantasy is not confused for fact and public policy is based on objective reality? I don't know for sure. But A GOOD PLACE TO START WOULD BE FOR EVERYONE ON EARTH TO READ THIS BOOK."  

—Neil deGrasse Tyson, astrophysicist, director of the Hayden Planetarium, author of Astrophysics for People in a Hurry

"Prometheus, the premiere publisher of skeptical literature, here issues a book that deserves to be shelved alongside the works of such giants of the field as [James] Randi, [Michael] Shermer, [Paul] Kurtz, and [Joe] Nickell. With a combination of lively prose and keen analytical reasoning, the author examines some of contemporary culture's most commonly held beliefs… A valuable, not to mention very entertainingly written, addition to the literature of skepticism."

—Booklist starred review

"This book will blow readers' minds (and it should) by making them realize how easy it is to hold a strong belief without applying either critical thinking or skepticism. Harrison…pokes gaping holes into common beliefs in the supernatural…and the tendency to believe that only personal religious tenets are correct despite total ignorance about other religious doctrine… Harrison guides us gently but firmly along an explorative path of our collective illogic, strong tendencies toward easy answers and magical thinking, and susceptibility to confirmation bias. He doesn't judge readers for buying into beliefs that have no real basis in fact and science, but instead asks them to second-guess the tendency to readily accept the unproven and the illogical as true. VERDICT: An outstanding book that is required reading no matter what you believe."

—Library Journal

"A journalist turns a skeptical eye on beliefs ranging from astrology to Atlantis, showing that scientific discovery can be just as fascinating as myth."

—Science News

 "Rarely has a skeptic gone to battle against nonsense with the warmth and humor….[A] grand tour though the bizarre ecosystem of irrational beliefs and extraordinary claims. Harrison deftly and compellingly demonstrates how science and reality are preferable to superstition and delusion.... It is an ideal text for an introductory Science and Pseudoscience or Critical Thinking course. It is clear, comprehensive, non-threatening yet thought provoking while remaining accessible. It's also a much welcomed and needed addition to every skeptic's reading list."

—Skeptic Magazine

"This book is a must-read for skeptics and non-skeptics alike. It will excite all critical thinkers and will get believers to reexamine many popular beliefs that they think are true. I recommend it to all who are concerned and deeply worried about the 'gigantic cloud of danger' looming large over our world today due to popular dogmatic and irrational beliefs."

—Skeptical Inquirer

"[An] absolute 'must read'… Each belief is covered with a general overview, the rational behind them and the scientific research that fails to support them, all presented with liberal witticism. Harrison champions the need for maintaining constant vigilance to avoid becoming prey to unfounded beliefs that on the face of things, probably won't cause any harm but could well lead to falling victim to more dangerous, erroneous beliefs. Well written, thoroughly researched and entertaining, this important book teaches the importance of being a skeptic."

—Monsters and Critics 

"[I]f you do not want your teenagers growing up believing that an angel is watching over them, or the Bible contains a code that reveals the future, or that global warming is purely a political issue, then give them this book."

—Science Fact and Fiction Concatenation