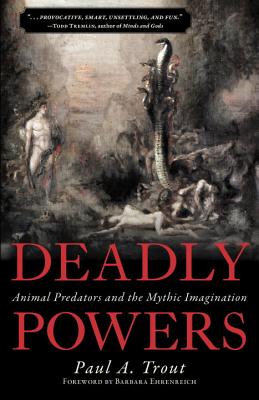 Deadly Powers (Hardcover)
Animal Predators and the Mythic Imagination
Prometheus Books, 9781616145019, 325pp.
Publication Date: November 7, 2011
* Individual store prices may vary.
Description
In this illuminating and evocative exploration of the origin and function of storytelling, the author goes beyond the work of mythologist Joseph Campbell, arguing that mythmaking evolved as a cultural survival strategy for coping with the constant fear of being killed and eaten by predators. Beginning nearly two million years ago in the Pleistocene era, the first stories, Trout argues, functioned as alarm calls, warning fellow group members about the carnivores lurking in the surroundings. At the earliest period, before the development of language, these rudimentary "stories" would have been acted out. When language appeared with the evolution of the ancestral human brain, stories were recited, memorized, and much later written down as the often bone-chilling myths that have survived to this day.

This book takes the reader through the landscape of world mythology to show how our more recent ancestors created myths that portrayed animal predators in four basic ways: as monsters, as gods, as benefactors, and as role models. Each incarnation is a variation of the fear-management technique that enabled early humans not only to survive but to overcome their potentially incapacitating fear of predators. In the final chapter, Trout explores the ways in which our visceral fear of predators is played out in the movies, where both animal and human predators serve to probe and revitalize our capacity to detect and survive danger.

Anyone with an interest in mythology, archaeology, folk tales, and the origins of contemporary storytelling will find this book an exciting and provocative exploration into the natural and psychological forces that shaped human culture and gave rise to storytelling and mythmaking.
About the Author
Paul A. Trout, professor emeritus at Montana State University, taught English for thirty-eight years. He has published widely on cultural and academic issues, and his articles have appeared in the Chronicle of Higher Education, the Washington Post, the Washington Times, Commonweal, the Christian Science Monitor, and other publications.
Praise For Deadly Powers: Animal Predators and the Mythic Imagination…
"Paul Trout advances a scintillating theory for the origins of storytelling, mythmaking, and ultimately, of modern folklore, fiction, and, yes, religion. We humans narrate our lives in these ways for the same reason we are afraid of the dark: it is full of predators (or the hardwired memory of predators) that would like to eat us. Replete with evidence from the natural world, the world of myth, and the work of evolutionary and cognitive science, Deadly Powers is variously provocative, smart, unsettling, and fun."
—Todd Tremlin, Author of Minds and Gods: The Cognitive Foundations of Religion

"Cave bears, saber-tooth cats, giant raptors, tigers, serpents, crocodiles: early humans lived in constant fear of being devoured by these powerful predators. Over the millennia, as we evolved from prey to hunters, the ancient dread and awe of predators remained embedded in myths about bloodthirsty creatures, as monsters, gods, benefactors, and models. Paul Trout's deeply researched and compelling Deadly Powers reveals the visceral impact and survival of the primal human fear of dying by carnivore. A wonderful book!"
—Adrienne Mayor, Author of The First Fossil Hunters and Fossil Legends of the First Americans

"Rather than being on the top of the food chain, we humans have been mainly a prey species throughout most of our evolution. In this extremely well-written and entertaining book, Paul Trout shows us how predators have shaped our psychology in such a way that many of our cultural myths and the stories we tell have been shaped by the predators that stalked our early ancestors."
—Robert W. Sussman, Department of Anthropology, Washington University

". . . well-written, well-researched, and highly informative about the grisly predators that stalked us in our early days. Trout's major contention is that scholarly works in this area have tended to underestimate the importance of radical fear 'in the beginning' and the myths that have sought to make it intelligible. Tender-minded readers may find parts of this book distressing, and that is certainly the author's intention: you need a strong stomach to think about Day One."
—Dudley Young, Author of the Pulitzer-nominated Origins of the Sacred

"Trout has written an interesting and original exploration of our early history with predatory animals and our modern obsession with violence in the media. . . ."
—Merlin Donald, Professor emeritus, Queen's University, Kingston, Ontario, and author of Origins of the Modern Mind
or
Not Currently Available for Direct Purchase