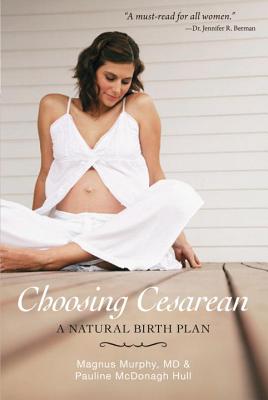 Choosing Cesarean: A Natural Birth Plan (Paperback)
A Natural Birth Plan
Prometheus Books, 9781616145118, 432pp.
Publication Date: January 24, 2012
Description
Obstetrician and gynecologist Magnus Murphy, MD, and journalist/advocate Pauline McDonagh Hull offer a compelling case for surgical delivery as a legitimate birth choice for informed women. By offering a wealth of medical evidence from around the world and thoughtfully countering the many objections detractors have lodged against it, the authors convincingly demonstrate that a planned cesarean birth at thirty-nine- plus weeks is a safe and often preferred alternative to a planned vaginal delivery. An indispensable guide for women, their families, and medical professionals.
About the Author
Magnus Murphy, MD (Calgary, Alberta, Canada), is the author (with Carol L. Wasson) of Pelvic Health and Childbirth: What Every Woman Needs to Know. He is an assistant clinical professor in the Department of Obstetrics and Gynecology at the University of Calgary. He is also in a private practice specializing in pelvic floor disorders and at the Pelvic Floor Clinic at the Calgary Regional Health Authority. He created the website www.pelvicfloor.com, which provides information on these disorders. Pauline McDonagh Hull (Farnham, Surrey, UK) is editor of www.electivecesarean.com, a Web site that provides specific information on elective cesareans and offers support to women with this birth plan. She also campaigns for recognition of the legitimacy of planned cesareans via her blog www.cesareandebate.blogspot.com. Formerly, she worked as a BBC News broadcast journalist and producer in London.
Praise For Choosing Cesarean: A Natural Birth Plan…
"A must-read for all women."
—Dr. Jennifer R. Berman

"An excellent presentation of the complex issues surrounding maternal request cesarean delivery. . . .
The authors have addressed the most common and most debated pros and cons in such detail as to allow the individual patient and her physician to make a truly informed decision."
—Ralph W. Hale, MD, Executive vice president, American College of Obstetricians and Gynecologists

"A must-read for all women. Women need to be informed with all information related to elective c-section versus vaginal birth. This book arms women with the information needed to make the choice that suits them best."
—Dr. Jennifer R. Berman, Urologist and sexual health expert, Berman Women's Wellness Center

"As a global maternal health advocate, I hope that all women will someday have more birth options to choose from—and that once a woman has had access to information about her options and makes an informed decision about her birth, the rest of us will stand behind her to support that choice."
—Christy Turlington Burns, Director/producer No Woman, No Cry; founder, Every Mother Counts

"At last a sensible and 'easy-to-read' book about the pros and cons of cesarean at the mother's request. It reviews the scientific evidence thoroughly enough to satisfy professionals but also explains it in straightforward language for the nonmedical reader."
—Phil Steer, MD, frcog, Emeritus professor, Imperial College London; editor in chief, BJOG, An International Journal of Obstetrics and Gynaecology

"A thoroughly readable book, beautifully written and well researched. The authors offer a supportive approach with informed decision making. . . . A compelling book I can thoroughly recommend."
—Dr. Peter De Jong, Consultant obstetrician and gynecologist, University of Cape Town
Advertisement