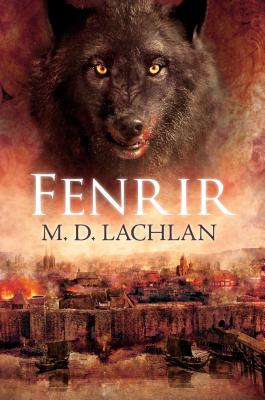 Fenrir (The Wolfsangel Cycle) (Paperback)
Pyr, 9781616145279, 443pp.
Publication Date: October 25, 2011
* Individual store prices may vary.
Description
The Vikings are laying siege to Paris. They want the Count's sister, in return they will spare the rest of the city. As houses on the banks of the Seine burn, a debate rages in the Cathedral on the walled island of the city proper. Can the Count really have ambitions to be Emperor of the Franks if he doesn't do everything he can to save his people? Can he call himself a man if he doesn't do everything he can to save his sister? His conscience demands one thing, the state demands another. The Count and the church are relying on the living saint, the blind and crippled Jehan of St. Germain, to enlist the aid of God and resolve the situation for them. But the Vikings have their own gods, and outside their camp, a terrifying brother and sister, priests of Odin, have their own agenda--an agenda of darkness and madness. And in the shadows a wolfman lurks. M. D. Lachlan's stunning epic of mad Gods, Vikings, and the myth of Fenrir, the wolf destined to kill Odin at Ragnarok, is a compelling mix of bloody horror, unlikely heroism, dangerous religion, and breathtaking action.
About the Author
M. D. Lachlan is the pen name of a successful writer of mainstream fiction and nonfiction. Among his works is Wolfsangel, the previous volume in this series, and The Elfish Gene, about being a teenage D&D obsessive. He lives near London, England, with his wife and children.
Praise For Fenrir (The Wolfsangel Cycle)…
Praise for Fenrir

"M. D. Lachlan is simply the most exciting, visceral, and deeply imaginative writer of fantasy working today. I thought Wolfsangel was a masterpiece, but Fenrir is even better, a superbly conjured historical world, potently readable storytelling, beautiful and savage in equal measure: it is unlike any other novel in print. Be wary, though: his werewolf will prey upon your dreams."
-ADAM ROBERTS, Author of Gradisil and New Model Army

"Fenrir is the eagerly awaited sequel to M. D. Lachlan's Wolfsangel. . . . Utterly convincing. . .plenty of action, strong characters, and vivid description. The story is sufficiently independent of its predecessor to be read and enjoyed on its own."
-INTERZONE


Praise for Wolfsangel

"Savage, dark, strange, and unpredictable. Recommended."
-JOE ABERCROMBIE, Author of The First Law trilogy

"A unique take on the werewolf mythos, on the Norse pantheon, and on magic itself. An enthralling, mesmerizing book."
-MIKE CAREY, Author of the Felix Castor series

"Sorcery and savagery fuel this rousing historical fantasy. . . . Vivid in its rendering of the primitive historical past, this entertaining adventure will have readers eagerly anticipating the next book in the series."
-PUBLISHERS WEEKLY

"From raids to single combat, the author really puts the reader into the heart of the action; it is close, brutal, and often highly personal. . . . Wolfsangel is a highly recommended historical fantasy. . . . Dark, atmospheric, original. . . . This is a great read."
-CIVILIAN READER
or
Not Currently Available for Direct Purchase