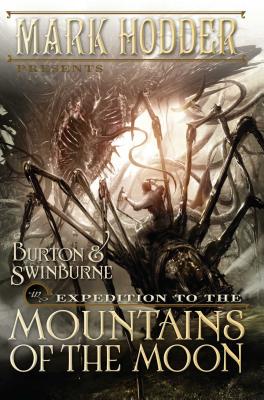 Expedition to the Mountains of the Moon (A Burton & Swinburne Adventure #3)
Paperback

* Individual store prices may vary.
Other Editions of This Title:
Hardcover (9/30/2012)
MP3 CD (7/26/2016)
Description
It is 1863, but not the one it should be. Time has veered wildly off course, and now the first moves are being made that will lead to a devastating world war and the fall of the British Empire. Caught in a tangled web of cause, effect, and inevitability, little does Burton realize that the stakes are far higher than even he suspects. A final confrontation comes in the mist-shrouded Mountains of the Moon, in war- torn Africa of 1914, and in Green Park, London, where, in the year 1840, Burton must face the man responsible for altering time: Spring Heeled Jack! Burton and Swinburne's third adventure is filled with eccentric steam-driven technology, grotesque characters, and bizarre events, completing the three-volume story arc begun in The Strange Affair of Spring Heeled Jack and The Curious Case of the Clockwork Man.
Praise For Expedition to the Mountains of the Moon (A Burton & Swinburne Adventure #3)…
Praise for the Philip K. Dick Award-winning Burton & Swinburne books:

"The usual superlatives for really clever fantasy (imaginative, mind-bending, phantasmagorical) aren't nearly big enough for this debut novel. With this one book, Hodder has put himself on the genre map."
-Booklist, starred review of The Strange Affair of Spring-Heeled Jack

"Hodder, with an encyclopedic grasp of period detail, tellingly brings these disparate, oddly familiar yet eerily different worlds to fecund life. Enthralling, dizzying, and as impressive as they come."
-Kirkus Reviews, starred review

"Every once in a while I come across a book, or series of books, that totally yanks the carpet out from under me. Then it reaches out, smashes me in the face with its awesomeness, and says, 'You love me!' Leaving me with naught to do but obligingly respond, 'Yes. Yes I do.' [The Curious Case of the Clockwork Man] was every bit the book that I had hoped it would be."
-Elitist Book Reviews

"Whatever one chooses to call [The Strange Affair of Spring Heeled Jack], it would be very difficult to deny its overwhelming brilliance. I can't remember the last time a novel has surprised, awed, and enthused me so utterly that I'm almost left at a loss for words for how to recommend it."
-Rob Will Review
Pyr, 9781616145354, 399pp.
Publication Date: January 24, 2012
About the Author
Mark Hodder is the author of The Strange Affair of Spring Heeled Jack--winner of the Philip K. Dick Award 2010--and its sequel, The Curious Case of the Clockwork Man. He's the creator and caretaker of the Blakiana website (http://www.sextonblake.co.uk), which he designed to celebrate, record, and revive Sexton Blake, the most written-about fictional detective in English publishing history. A former BBC writer, editor, journalist, and Web producer, Mark has worked in all the new and traditional medias and was based in London for most of his working life until 2008, when he relocated to Valencia in Spain to de-stress and write novels. He has a degree in cultural studies and loves British history (1850 to 1950, in particular), good food, cutting-edge gadgets, cult TV (ITC forever!), Tom Waits, and a vast assortment of oddities.
or
Not Currently Available for Direct Purchase