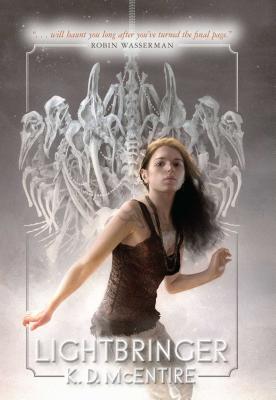 Lightbringer
Hardcover

* Individual store prices may vary.
Description
A YA urban fantasy/romance set in a world a breath away from our own. Similar in tone to Tithe and Unleashed, this story tiptoes down the line between love and horror as Wendy discovers herself and the darkest parts of the afterlife. Wendy has the ability to see souls that have not moved on, but she does not seek them out. They seek her. They yearn for her . . . or what she can do for them. Without Wendy's powers, the Lost, the souls that have died unnaturally young, are doomed to wander in the never forever, and Wendy knows she is the only one who can set them free by sending them into the light. Each soul costs Wendy, delivering too many souls would be deadly, and yet she is driven to patrol, dropping everyone in her life but her best friend, Eddie-who wants to be more than friends-until she meets Piotr. Piotr, the first Rider and guardian of the Lost, whose memory of his decades in the never, a world that the living never see, has faded away. With his old-fashioned charms, and haunted kindness, he understands Wendy in ways no one living ever could, yet Wendy is hiding that she can do more than exist in the never. Wendy is falling for a boy who she may have to send into the light. But there are darker forces looking for the Lost. Trying to regain the youth and power that the Lost possess, the dark ones feed on the Lost and only Wendy and Piotr can save them--but at what cost?
Praise For Lightbringer…
Praise for K.D. McEntire:

"McEntire's writing shimmers. The world she's created is intricate and full of life.
Reaper will leave you breathless."
- Kristopher Reisz, author of Unleashed

"Reaper is a fascinating and touching story built in a rich, layered world where the stakes are bigger than life or death. . . . K.D. McEntire's writing is smart, sharp, and utterly engaging. Reaper will take you on a thrilling trip . . . where death is only the beginning."
- Leah Petersen, author of Fighting Gravity

"A mesmerizing and haunting tale rich with engaging characters, tense adventures,
and a guiding theme of love and trust. . . . I highly recommend it."
- I Swim for Oceans

"A new take on ghosts, death, souls, and reaping, involving a brand new world I know
readers will be dying to get inside. I would absolutely recommend this book."
- Sizzling Reads
Pyr, 9781616145392, 319pp.
Publication Date: November 22, 2011
About the Author
K. D. McEntire is a mom and animal lover currently living just outside of Kansas City with her husband, sons, and two cats. KD spends her minuscule free time reading, writing, and battling her Sims 3 addiction. She loves Wil Wheaton, Stephen King, Joss Whedon, gaming, comic books, and all things geeky.
or
Not Currently Available for Direct Purchase