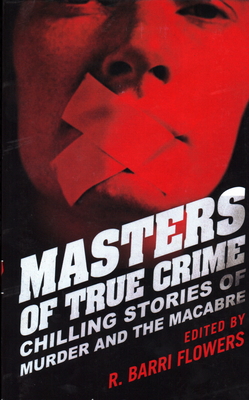 Masters of True Crime (Paperback)
Chilling Stories of Murder and the Macabre
Prometheus Books, 9781616145675, 302pp.
Publication Date: July 24, 2012
* Individual store prices may vary.
Description
Spanning murder cases from the beginning of the twentieth century to today, this is a must-read for fans of true crime and will also be compelling to mystery and thriller readers.  The contributors include Harold Schechter, Katherine Ramsland, Carol Anne Davis, Burl Barer, and other leading writers in this genre. 

In February 1975, nine-year-old Marcia Trimble left her house in Nashville to deliver Girl Scout cookies in the neighborhood. She never returned. After a massive but fruitless search, her body was discovered on Easter Sunday. Outrage and horror gripped the community of Nashville, but the murder investigation was frustrated at every turn. The case went cold for three decades until it was finally solved.

In January 1997, Herbert Blitzstein was found murdered in the living room of his Las Vegas townhouse. A notorious mob insider, "Fat Herbie" had pursued loan sharking and other rackets for decades. Now, Blitzstein had been dispatched gangland style—by three bullets to the back of the head—in what appeared to be a classic contract killing. But the details of who killed him and why turned out to be much more complicated, and the real motives and circumstances remain murky to this day.

These are just two examples of the riveting stories assembled in this unparalleled collection of some of the top true-crime writers in the world. Each of the seventeen contributors draws on his or her own strengths, backgrounds, interests, and research skills to describe in a vivid narrative not only the facts of each notorious case but also the terrible emotions and macabre circumstances surrounding the crimes.
About the Author
R. Barri Flowers is an independent literary criminologist and crime writer, with a BA and an MS in criminal justice from Michigan State University's renowned School of Criminal Justice. He is the author of more than forty books, including the bestselling true-crime tale The Sex Slave Murders: The True Story of Serial Killers Gerald and Charlene Gallego and, most recently, Prostitution in the Digital Age: Selling Sex from the Suite to the Street.
Praise For Masters of True Crime: Chilling Stories of Murder and the Macabre…
"Absolute bone-chilling and sinister accounts of murder and mayhem. . . . Readers get an extreme front-row seat to seventeen terrifying tales. Well written and captivating."
-Jennifer Chase, Criminologist and award-winning author

"The detailed reporting only makes these jaw-dropping tales more chilling. Do not read this alone."
-Kathleen Sharp, Author of Blood Feud

"Incredible cases, psychopathic killers, unwitting victims, along with the very best writers make for an exciting, no-holds-barred, soon-to-be true-crime classic."
-Dan Zupansky, Host of True Murder

"A riveting collection of short stories told by veteran crime writers. Once you begin to read this book, you will have trouble putting it down. . . . It is a disturbing, albeit fascinating, read."
-Kathleen M. Heide, PhD, Author of Why Kids Kill Parents

"This book should be a mandatory purchase and read for any true-crime buff. . . . An exceptional collection of true-crime stories."
-Steven A. Egger, PhD, Associate professor and chair of the Criminology Program at the University of Houston–Clear Lake
or
Not Currently Available for Direct Purchase