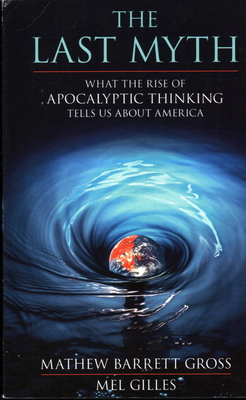 The Last Myth
What the Rise of Apocalyptic Thinking Tells Us About America (Contemporary Issues)
Paperback

* Individual store prices may vary.
Description
During the first dozen years of the twenty-first century, apocalyptic anticipation in America has leapt from the cultish to the mainstream. Today, nearly 60 percent of Americans believe that the events foretold in the book of Revelation will come true. But many secular readers also seem hungry for catastrophe and have propelled books about peak oil, global warming, and the end of civilization into bestsellers. How did we come to live in a culture obsessed by the belief that the end is near?

The Last Myth explains why apocalyptic beliefs are surging within the American mainstream today. Demonstrating that our expectation of the end of the world is a surprisingly recent development in human thought, the book reveals the profound influence of apocalyptic thinking on America's past, present, and future.
Praise For The Last Myth: What the Rise of Apocalyptic Thinking Tells Us About America (Contemporary Issues)…
"If you want to know what's really happening in the reality gap between our culture and our politics, and how we can refocus our efforts on real problems rather than just on fears, The Last Myth lays it out in brilliant detail. A must-read book!"
-Thom Hartmann, Bestselling author and international radio and TV show host

"The Last Myth is an important and moving analysis of the apocalyptic impulse that impels this culture toward its destructive ends. It is an even more important and moving exploration of what we can and must do about it."
-Derrick Jensen, Author of Endgame

"The ability to distinguish between genuine perils—like climate change—and less fearsome ones is as key a skill as there can be at this tough moment, and this book has some truly interesting thoughts about how to do it."
-Bill McKibben, Author of Eaarth: Making a Life on a Tough New Planet

"The Last Myth is a book of ideas born out of this moment in time. Rapture. Rupture. Climate change. Change of heart. It is in our nature to live against the edge of apocalypse. Mathew Barrett Gross and Mel Gilles show us in intelligent and provocative prose that the gift of presence is all we have. This book is one that should be brought to the dinner table for lively and transformative conversation with family and friends. At a time when so much separates us ideologically, these ideas can unite us in our understanding that the only end of the world we really need to fear is the end of our imagination."
-Terry Tempest Williams, Author of When Women Were Birds and The Open Space of Democracy
Prometheus Books, 9781616145736, 254pp.
Publication Date: March 6, 2012
About the Author
Mathew Barrett Gross rewrote the rules of presidential politics as the director of Internet Communications for Howard Dean's groundbreaking 2003–2004 presidential campaign. Highly regarded as a new media strategist, he has consulted for numerous political campaigns, advocacy organizations, and global NGOs, and has been profiled in the Washington Post, the Wall Street Journal, the Boston Globe, and Fast Company. A former rock drummer and river guide, he lives in Moab, Utah.

Mel Gilles is the cofounder and director of Sol Kula Yoga and Healing in Moab, Utah. She served as a nonprofit director and consultant for over a decade. Her writing has appeared in newspapers, magazines, and blogs nationwide; her essay "The Politics of Victimization" went viral, appearing on MichaelMoore.com and BuzzFlash and reaching more than two million readers around the world.
or
Not Currently Available for Direct Purchase