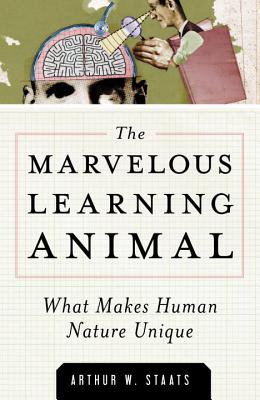 The Marvelous Learning Animal: What Makes Human Behavior Unique (Hardcover)
What Makes Human Behavior Unique
Prometheus Books, 9781616145972, 402pp.
Publication Date: May 22, 2012
* Individual store prices may vary.
or
Not Currently Available for Direct Purchase
Description
What makes us human? In recent decades, researchers have focused on innate tendencies and inherited traits as explanations for human behavior, especially in light of groundbreaking human genome research. The author thinks this trend is misleading. As he shows in great detail in this engaging, thought-provoking, and highly informative book, what makes our species unique is our marvelous ability to learn, which is an ability that no other primate possesses.
In his exploration of human progress, the author reveals that the immensity of human learning has not been fully understood or examined. Evolution has endowed us with extremely versatile bodies and a brain comprised of one hundred billion neurons, which makes us especially suited for a wide range of sophisticated learning. Already in childhood, human beings begin learning complex repertoires--language, sports, value systems, music, science, rules of behavior, and many other aspects of culture. These repertoires build on one another in special ways, and our brains develop in response to the learning experiences we receive from those around us and from what we read and hear and see. When humans gather in society, the cumulative effect of building learning upon learning is enormous.
The author presents a new way of understanding humanness--in the behavioral nature of the human body, in the unique human way of learning, in child development, in personality, and in abnormal behavior. With all this, and his years of basic and applied research, he develops a new theory of human evolution and a new vision of the human being. This book offers up a unified concept that not only provides new ways of understanding human behavior and solving human problems but also lays the foundations for opening new areas of science.
About the Author
Arthur W. Staats is professor emeritus in the Department of Psychology at the University of Hawaii at Manoa. Internationally known as an innovator, he is the inventor of the "time-out" concept that so many parents have used with their children as well as the creator of the token-reward system (token economy) to modify behavior patterns. In 2006, " Child" magazine recognized him as one of "20 People Who Changed Childhood." He is the author of six books, more than fifty chapters, and over eighty journal articles, among other publications.
Praise For The Marvelous Learning Animal: What Makes Human Behavior Unique…
"The nature-nurture debate represents one of the fundamental questions in the field of psychology: Is human behavior wired into our genes or are we shaped by our learning histories and situational pressures? In recent years, advances in evolutionary theories, genomics, and neuroscience have focused considerable attention on 'nature.' In lucid and accessible prose, Arthur W. Staats makes the case for 'nurture,' arguing that human uniqueness derives from our capacity to learn. Not everyone will agree with Staats's conclusions, but all will find that his book represents a significant and compelling contribution to a critical debate."
-Peter Salovey, Chris Argyris Professor of Psychology, Yale University

"Staats has thrown down a challenge to the currently fashionable biological and genetic determinism. Here he places our breathtaking capacity to learn front and center in theunderstanding of human nature in his forcefully argued account."
-Frank Farley, PhD, Professor, Temple University, Philadelphia; former president, American Psychological Association; former president, American Educational Research Association

"In this exciting book, Staats challenges the biological focus that has come to dominate the study of human behavior and makes a compelling case for the central role of humankind's inimitable learning ability in making us the unique species we have become. The importance of this insight cannot be overestimated. It creates the basis for a new paradigm, providing a new way of conceptualizing human nature and a framework for uniting many disparate fields of study and applications of scientific knowledge with real-world social and behavioral problems. The implications for the future development of the science of human nature are profound."
-Karl Minke, Long-term department chair and associate professor (retired), Department of Psychology, University of Hawaii at Manoa
Advertisement