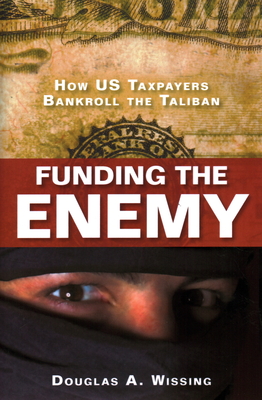 Funding the Enemy (Hardcover)
How US Taxpayers Bankroll the Taliban
Prometheus Books, 9781616146030, 396pp.
Publication Date: March 27, 2012
* Individual store prices may vary.
or
Not Currently Available for Direct Purchase
Description
Drawing on the voices of hundreds of combat soldiers, ordinary Afghans, private contractors, aid workers, and government officials, this title explores how and why US taxpayers have been unwittingly funding both sides of the disastrous war in Afghanistan.
About the Author
Douglas A. Wissing is an award-winning independent journalist who has reported widely on the war in Afghanistan for print, radio, and the Web. He has contributed hundreds of stories to media outlets that include the" New York Times," the" Washington Post," the "Los Angeles Times, Asia Times, Forbes Life," the "Independent on Sunday" (UK), " Salon," and "National Geographic Traveler," as well as the BBC, VOA News, and NPR networks. He is the author of six books, including "Pioneer in Tibet: The Life and Perils of Dr. Albert Shelton."
Praise For Funding the Enemy: How US Taxpayers Bankroll the Taliban…
"Sober, sad, and important, Funding the Enemy peels back the layers of American engagement in Afghanistan to reveal its rotten core: that United States dollars meant for that country's future instead fund the insurgency and support the Taliban. Paying for both sides of the war ensures America's ultimate defeat, and Wissing's book tells the story."
-Peter Van Buren, Former State Department Foreign Service Officer and author of We Meant Well: How I Helped Lose the Battle for the Hearts and Minds of the Iraqi People

"Wissing presents a compelling viewpoint of how national security objectives are pursued and how war is waged in the modern, asymmetric battlespace. In particular, his insightful analysis of the Afghanistan war—its funding mechanisms, lack of coherent strategy, and weak interagency cooperation and synergy—should be required reading for all. One of his most poignant phrases, 'The United States couldn't kill its way to victory, nor could it buy it,' suggests that how we have traditionally waged war isn't working, implicitly asking this question: What can we do to clean up our act?"
-Maj. Gen. Arnold Fields, USMC (ret.), Former Special Inspector General for Afghanistan Reconstruction

"[A] sobering account of the attempts by several US administrations to both wage war in and provide aid to Afghanistan, often with confusing and contradictory results. Backed by extensive interviews as well as on-the-ground embedded-reporter experience, the book illustrates the nearly impossible task of nation building in a country with a long history of factional friction and transactional corruption."
-Lee H. Hamilton, Former Indiana congressman and co-chair of the Iraq Study Group

"Wissing's meticulous marshaling of . . . devastating facts along with cogent perspectives gleaned from actors on the ground is timely and of considerable value. [His] blunt, succinct, yet responsible style leaves the reader with no doubts that new ways forward must focus on the people of Afghanistan who have been ill-served by their friends as well as their leaders for too long. . . .[A]n honest reading of Funding the Enemy should be required . . . as new paths are forged."
-Nancy Hatch Dupree, Executive consultant to the Afghanistan Centre at Kabul University
Advertisement