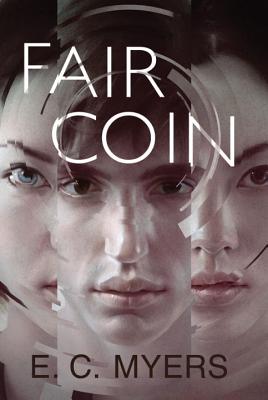 Fair Coin
Hardcover

* Individual store prices may vary.
Description
Epraim is horrified when he comes home from school one day to find his mother unconscious at the kitchen table, clutching a bottle of pills. Even more disturbing than her suicide attempt is the reason for it: the dead boy she identified at the hospital that afternoon--a boy who looks exactly like him. While examining his dead double's belongings, Ephraim discovers a strange coin that makes his wishes come true each time he flips it. Before long, he's wished his alcoholic mother into a model parent, and the girl he's liked since second grade suddenly notices him.
But Ephraim soon realizes that the coin comes with consequences --several wishes go disastrously wrong, his best friend Nathan becomes obsessed with the coin, and the world begins to change in unexpected ways. As Ephraim learns the coin's secrets and how to control its power, he must find a way to keep it from Nathan and return to the world he remembers. (For ages 12 & up)
Praise For Fair Coin…
Winner of the 2012 Andre Norton Award for Young Adult Science Fiction/Fantasy Book!

"Warning: This Book is Pure Awesome Crack. Tired of cookie-cutter young-adult novels? . . . [Fair Coin] achieves the feat of seeming like a dark fairy tale and a clever science fiction epic rolled into one. It's a fast-moving book full of twists and cool character moments and is definitely ideal for adults who miss the days of engaging, idea-driven science fiction."
-io9

"Funny, flirtatious, and unexpectedly poignant, Fair Coin takes the phrase 'be careful what you wish for' and runs with it. A stand-out debut from an author to watch."
-LAUREN MCLAUGHLIN, author of Scored

"[A] well-written, fast-paced, EPIC adventure. There are plot twists you will never see coming and enough science fiction elements to satisfy even the hungriest nerd brain! In my opinion, it accurately portrays . . . what teenagers would do if they had the entire universe at their disposal."
-MOTHER/GAMER/WRITER

"I thoroughly loved this book. Rather than finding just another same-old, same-old book, this one smashed through the mold. . . . I highly recommend [Fair Coin] to all fans of YA, especially those who enjoy male MCs, science fiction, and fantasy."
-I SWIM FOR OCEANS

"This one reminded me a lot of Scott Westerfeld's The Uglies. There's so much to love here: madcap adventure, chewy theoretical physics, realistic angst, serious stakes leavened by hilarious snark. The kind of book smart kids will love."
-N. K. JEMISIN, author of the Inheritance Trilogy

"A refreshingly unique read. . . . I loved the characters, I loved the concept, and most of all, I loved how immersed I was in the story."
-HOPELESSLY DEVOTED BIBLIOPHILE

"Myers has written a novel that makes the reader think. . . . It is humorous, emotional, and complex in a refreshing way, and I think it's a book that anyone who enjoys science fiction could really love."
-LITERARY OBSESSION

"Cerebral science fiction with enough romance and two-fisted action to keep it from getting too bogged down in its own ideas. A great read for just about anyone."
-GUYS LIT WIRE
Pyr, 9781616146092, 287pp.
Publication Date: March 27, 2012
About the Author
E.C. Myers was assembled from Korean and German parts in Yonkers, New York, where he was raised jointly by a mother and the public library. He is a graduate of the Clarion West Writers Workshop and a member of the prolific NYC writing group Altered Fluid. In the rare moments when he isn't writing, he blogs about Star Trek at theviewscreen.com, plays video games, watches classic films and television, sleeps as little as possible, and spends too much time on the internet. To find out more about E.C. Myers and his activities, short story publications, and novels, visit ecmyers.net, or find him on Twitter @ecmeyers.
or
Not Currently Available for Direct Purchase