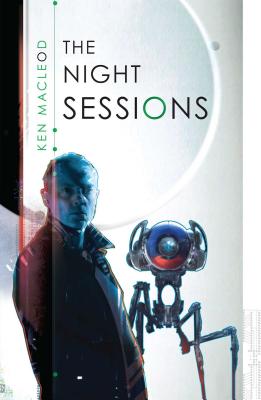 The Night Sessions
Paperback

* Individual store prices may vary.
Description
A bishop is dead. As Detective Inspector Adam Ferguson picks through the rubble of the tiny church, he discovers that it was deliberately bombed. That it's a terrorist act is soon beyond doubt. It's been a long time since anyone saw anything like this. Terrorism is history ...After the Middle East wars and the rising sea levels - after Armageddon and the Flood - came the Great Rejection. The first Enlightenment separated church from state. The Second Enlightenment has separated religion from politics. In this enlightened age there's no persecution, but the millions who still believe and worship are a marginal and mistrusted minority. Now someone is killing them. At first, suspicion falls on atheists more militant than the secular authorities. But when the target list expands to include the godless, it becomes evident that something very old has risen from the ashes. Old and very, very dangerous ...
Praise For The Night Sessions…
"As ever, MacLeod's depiction of the near future is achieved through solid characterisation and brilliant detail. His forte is the depiction of how belief systems can corrupt, and The Night Sessions is a stunning indictment of fundamentalism of all kinds."
-The Guardian

"The characterisation is good, the processes realistic and the plot suitably complex, though never enough to confuse. Ken leads his audience through a number of set pieces to a satisfying ending. I must admit that, despite not being a religious person myself, I did have my doubts that such an extreme situation could come about in reality, though if you are able to suspend your disbelief (as I did) there's a lot to get your teeth into here. In summary then, as good as I had hoped after The Execution Channel. Intelligent, entertaining and knowledgeable, this is everything you might expect or hope for from a Ken MacLeod SF novel. Perhaps slightly more SF than The Execution Channel, though not that much more, it does make an interesting counterpoint with Charles Stross' Halting State, which has similar elements in a near-future setting (and who, coincidentally, is acknowledged at the beginning of the book.) Of the two, although I liked Halting State a lot, I preferred this."
-SFF World

"In Hollywood terms, it's high concept: in a world where religion is banned, what happens when robots find God? …The Night Sessions is a fast, entertaining read with some challenging ideas behind it. … if The Night Sessions' conclusion is not quite as audacious as that of the previous novel, it is nevertheless strikingly brutal and brave, a welcome sign of a novelist willing to follow through the implications of his set-up."
-Strange Horizons
Pyr, 9781616146139, 263pp.
Publication Date: April 24, 2012
About the Author
Ken MacLeod was born in Stornoway, Isle of Lewis, Scotland, on August 2, 1954. He is married with two grown-up children and lives in West Lothian. He has an Honours and Masters degree in biological subjects and worked for some years in the IT industry. Since 1997 he has been a full-time writer, and in 2009 was Writer in Residence at the ESRC Genomics Policy and Research Forum at Edinburgh University. He is the author of twelve novels, from The Star Fraction (1995) to The Restoration Game (2010), and many articles and short stories. His novels have received two BSFA awards and three Prometheus Awards, and several have been short-listed for the Clarke and Hugo Awards. Ken MacLeod's weblog is The Early Days of a Better Nation: http://kenmacleod.blogspot.com
or
Not Currently Available for Direct Purchase