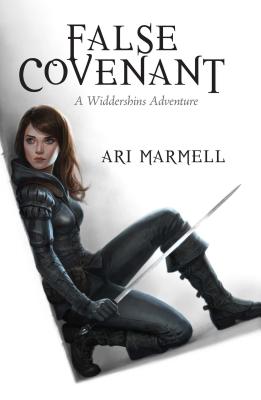 False Covenant
A Widdershins Adventure (Widdershins Adventures)
Hardcover

* Individual store prices may vary.
Description
It's been over half a year, now, since the brutal murder of Archbishop William de Laurent during his pilgrimage to the Galicien city of Davillon. During that time, the Church of the Hallowed Pact has assigned a new bishop to the city—but it has also made its displeasure at the death of its clergyman quite clear. Davillon's economy has suffered beneath the weight of the Church's displeasure. Much of the populace—angry at the clergy— has turned away from the Church hierarchy, choosing private worship or small, independent shrines. And the bishop, concerned for his new position and angry at the people of Davillon, plans to do something about it. But a supernatural threat is stalking the nighttime streets—a creature of the other world has come to infiltrate the seedier streets of Davillon, to intertwine its tendrils through the lower echelons of society. Faced with both political upheaval and a supernatural threat to its citizenry, the local representatives of the Church are paralyzed and the Guardsmen are in over their heads. And then there's Widdershins--who's tried, and failed, to stay out of trouble since taking over Genevieve's tavern; who's known to the Church and the Guard both, and trusted by neither; who may, with some of her Thieves' Guild contacts, have unwittingly played a part in the bishop's plans; and who, along with her personal god Olgun, may be the only real threat to the supernatural evil infesting Davillon.
Praise For False Covenant: A Widdershins Adventure (Widdershins Adventures)…
 "[G]enuinely adolescent (including occasional idiotic and immature behavior) high fantasy is rare enough that this stands out…A romp with an edge and a feisty female lead: Fans will rejoice at the indication that this series has even more to come."
-Kirkus Reviews
 
"False Covenant changed my status from "loyal fan" to "die-hard, I need every book Ari Marmell has ever written, obsessed-fan-girl."… This is a series not to be overlooked. It has everything a fan of fantasy could possibly want, and even those afraid to venture into high fantasy will love it. Anyone looking for a great story, check out the Widdershins Adventures novels."
-What's Your Story (YA)
 
"I liked the first in this series well enough that I jumped this one up the stack a good ways and I'm glad I did. In theory this is a young adult series, but it reads just fine for this not quite so young adult."
-Don D'Ammassa's Critical Mass

"[E]nthralling. It's easy to get caught up in Widdershins's adventures. The mystery and suspense makes for an exciting read. With plenty of drama and a bit of humor and several surprises along the way, this dark fantasy series is decidedly charming."
-SciFi Chick 
 
"The descriptions and dialogues are often funny in an understated, subtle way, full of whimsical humor, banter, and funny similes…The 14-year-old me would have loved these books, because they're immeasurably better than some of the ghastly media/RPG tie-in fiction I ended up reading as a bridge between children's books and fantasy for adults. Even now, well past the target age for YA literature, I had a blast revisiting Davillon and Widdershins."
-Tor.com blog 

"Marmell successfully weaves in enough backstory to keep new readers interested, but they will be clamoring to read Thief's Covenant, and will eagerly await the next books in the series."
-School Library Journal 

"What it does have in common with the first novel though is a fast-paced plot and a good selection of characters. The supernatural killer Iruoch is truly creepy and enough to make you nervous of the dark. …This is another very good story from Ari Marmell and I'm looking forward to the next volume."
-SF Crowsnest 

"I enjoyed the book…A fun read--Widdershins and her antics with her personal god are always fun--and with a goodly touch of horror with the creature stalking the street."
-SF Reader forum 
Pyr, 9781616146214, 281pp.
Publication Date: June 26, 2012
About the Author
Ari Marmell is a fantasy and horror writer and the author of several original novels including The Goblin Corps and three Widdershins adventures, Thief's Covenant, False Covenant, and Lost Covenant. He has also written gaming tie-in novels such as In Thunder Forged: Iron Kingdoms Chronicles and worked as an author of role-playing game materials for games such as Dungeons & Dragons and the World of Darkness line. Although born in New York, Ari has lived the vast majority of his life in Texas—first Houston (where he earned a BA in creative writing at the University of Houston) and then Austin. He lives with his wife, George; their cat; and a variety of neuroses. Visit the Widdershins page at @Madeleine.Valois, and visit Ari at Mouseferatu.com, on Facebook @Ari-Mouseferatu-Marmell, or on Twitter @Mouseferatu.