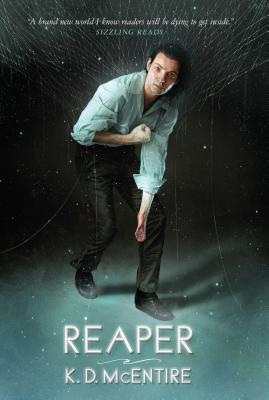 Reaper (Lightbringer #2)
Hardcover

* Individual store prices may vary.
Description
After the death of her mother, Wendy discovers that attempting to fill her mother's shoes as a Lightbringer is far more difficult than she ever imagined. Learning that she is part of a powerful and ancient family of Reapers that her mother had forsaken is just the first surprise. Wendy soon discovers that the ghostly Never of the San Francisco Bay is filled with mysterious political factions that want to use her for their own ends. Abandoned by her dead boyfriend, Piotr, Wendy struggles to navigate a dangerous course between the machinations of the dead and the dark intentions of her living Reaper family. Betrayed and dying herself, the clock is ticking—Wendy has only a matter of days to unravel the mysteries her mother left behind and to convince the Reapers to accept her as one of their own.
Praise For Reaper (Lightbringer #2)…
Praise for K.D. McEntire:

"McEntire's writing shimmers. The world she's created is intricate and full of life.
Reaper will leave you breathless."
- Kristopher Reisz, author of Unleashed

"Reaper is a fascinating and touching story built in a rich, layered world where the stakes are bigger than life or death. . . . K.D. McEntire's writing is smart, sharp, and utterly engaging. Reaper will take you on a thrilling trip . . . where death is only the beginning."
- Leah Petersen, author of Fighting Gravity

"A mesmerizing and haunting tale rich with engaging characters, tense adventures,
and a guiding theme of love and trust. . . . I highly recommend it."
- I Swim for Oceans

"A new take on ghosts, death, souls, and reaping, involving a brand new world I know
readers will be dying to get inside. I would absolutely recommend this book."
- Sizzling Reads
Pyr, 9781616146320, 342pp.
Publication Date: August 24, 2012
About the Author
K. D. McEntire is a mom and animal lover currently living just outside of Kansas City with her husband, sons, and two cats. KD spends her minuscule free time reading, writing, and battling her Sims 3 addiction. She loves Wil Wheaton, Stephen King, Joss Whedon, gaming, comic books, and all things geeky.
or
Not Currently Available for Direct Purchase