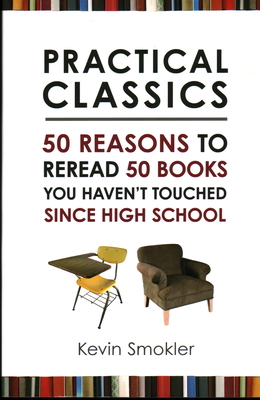 Practical Classics
50 Reasons to Reread 50 Books You Haven't Touched Since High School
Paperback

* Individual store prices may vary.
Description
What do the great books of your youth have to say about your life now? Remember reading Catcher in the Rye and The Great Gatsby in high school? How about Slaughterhouse-Five and Pride and Prejudice? Would you read them again now that no one's grading you, just for your own enjoyment? This book helps you decide to do just that. Author Kevin Smokler will guide you through fifty books commonly assigned in high school English class and show you why you'd probably enjoy rereading the same books as an adult.

Smokler's essays on the classics - witty, down-to-earth, appreciative, and insightful - are divided into ten sections, each covering an archetypical stage of life - from youth and first love to family, loss, and the future. The author not only reminds you about the essential features of each great book but gives you a practical, real-world reason why revisiting it in adulthood is not only enjoyable but useful.

Can The Adventures of Huckleberry Finn help you cope with aging? What does To Kill a Mockingbird have to say about being a parent? How about Fahrenheit 451 on not getting stuck in a crappy job? Practical Classics gives you an incentive to reread and a reason why.
Praise For Practical Classics: 50 Reasons to Reread 50 Books You Haven't Touched Since High School…
"In this engaging survey of 50 books commonly assigned to teen readers, [Smokler] advocates revisiting them from an adult perspective. Even books we loved in our formative years… may have sailed right over our heads, suggests the author, who argues that only time and experience can prepare us to appreciate them fully."
-San Jose Mercury News 
 
"[F]ull of wit and candor... Putting literature to practical use is not a new invention, but what's refreshing about the practice in this light is how Smokler pits this sort of practical gifting-as-guidance against the reduction of literature to 'a letter grade and a dusty old obligation.'"
-Fiction Writers Review 
 
"[S]o much fun…[It] offers a truly enjoyable trip down one's personal memory lane of books. It's also a love letter to the act of reading, to continual learning, and to making an effort to slow down and savor the good books in life."
-The Atlantic Wire "YA's for Adults" column, with interview 
 
"If you have been thinking about revisiting the books of your youth or those you have promised yourself to read, but haven't, this entertaining book provides practical, real-world reasons by you should read them."
-Bookviews by Alan Caruba 
 
"[A] fine guide for any adult reader who would return to the classics with a different perspective in mind."
-The Bookwatch 
 
"In the short and beguilingly engaging essays that make up Practical Classics, Smokler shows how these works can be relevant and even useful to grownups. Most impressively, he manages to pull this off without sounding stuffy or self-important."
-The Rumpus

"Possibly the first self-help book to use literature as its prescription, Practical Classics serves as a primer for personal development, demonstrating how one may apply various literary tinctures to the more troublesome areas of the Human Condition.... [Smokler] holds forth with confidence and a good slathering of wit about coping with our common, human plight."
-Austin Chronicle
 
Prometheus Books, 9781616146566, 300pp.
Publication Date: February 19, 2013
About the Author
Kevin Smokler (San Francisco, CA) is the editor of Bookmark Now: Writing in Unreaderly Times, a San Francisco Chronicle Notable Book of 2005. His writing has appeared in the Los Angeles Times, Fast Company, the San Francisco Chronicle, and The Believer.
or
Not Currently Available for Direct Purchase