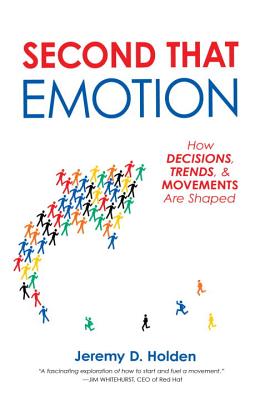 Second That Emotion: How Decisions, Trends, & Movements Are Shaped (Hardcover)
How Decisions, Trends, & Movements Are Shaped
Prometheus Books, 9781616146641, 287pp.
Publication Date: September 18, 2012
* Individual store prices may vary.
or
Not Currently Available for Direct Purchase
Description
An advertising and communications expert traces the fascinating process whereby a passion for an idea, a politician, a celebrity, or a brand gives rise to a set of illogical beliefs that becomes the basis for a powerful movement.
Conventional wisdom has it that spin doctors and Madison Avenue are responsible for manipulating our thoughts, causing us to endorse ideas or buy products that we would otherwise reject outright. Holden shows that while advertising and propaganda can provide a spark and social media provides the kindling, individuals create consumer, political, and cultural trends based, more often than not, on thinking that they know logically to be flawed.
For businesspeople who want to see their company or brand break through, this book is both essential and entertaining reading. For the rest of us, the author provides a window into our decision-making processes, and how emotion-based illogical leaps drive our support for movements, whether they are political, commercial, or related to popular culture.
About the Author
Jeremy D. Holden, PhD (Raleigh, NC), is a branding and research strategist with twenty-five years experience consulting with global organizations. He is currently Chief Strategy Officer at Publicis New York, whose clients include P&G, Citi Group, and Nestle. Previously, Holden was Partner/Director of Account Planning at McKinney, where his clients included Audi, NASDAQ, Realogy, and Sherwin Williams. Holden's work has garnered numerous industry awards including the Sustained Success Gold Effie (the top industry award for commercially effective advertising), the AAAA Planning Gold Award, the MIXX Awards Best in Show, the Yahoo Purple Chair, and a Cannes Lion. Holden has an eclectic background having run for political office in the U.K. as well as having performed "Improv."
Praise For Second That Emotion: How Decisions, Trends, & Movements Are Shaped…
"Second That Emotion gives voice to a simple, pervasive - but profound - fact of human thinking and reasoning: that fact-based emotions and the self-authored narratives they shape are nothing less than the engine of history. As Holden aptly points out, emotions rule the roost, and he deploys a wide palette in elucidating this crucial aspect of human existence."
- Dr. Bob Deutsch, Cognitive anthropologist and founder of Brain Sell


"A book about the 'whys' and 'hows' of cultural movements and why we not only believe the things we do but then act on those beliefs, no matter how illogical. . . . [It] is a must-read."
- David Baldwin, Former chairman of the One Show and founder of Baldwin&


"Second That Emotion smartly focuses on different types of psychographics . . .and the one consistent presence throughout all of marketing's history - the individual. For those in marketing, he makes a compelling case as to who, how, and when to target consumers based on an understanding of their emotion-based beliefs and decisions."
- Keith A. Grossman, Associate publisher for Wired


"What an excellent read! . . . Thought provoking, insightful, and full of relevance. . . . Simple to comprehend but far-reaching and comprehensive in the spectrum of concepts that it explores. . . . A meticulously researched and thoughtfully presented work, written in an entertaining style."
- Johan de Nysschen, President of Infiniti Global Limited


"Second That Emotion is a fantastic read in large part because it offers so many fascinating contradictions. It's an informative book for business-people, yet many of the examples are from history, politics, and pop culture. It's a progressive book for the digital generation, yet it's full of studiously researched examples from ancient history. I recommend [it] to anyone, most of all because it's richly entertaining."
- Jeff Jones, Chief marketing officer at Target
Advertisement