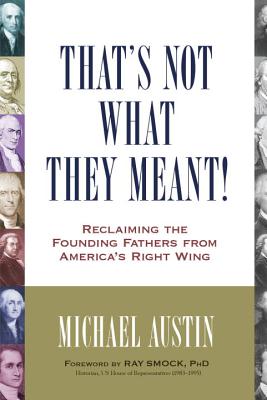 That's Not What They Meant! (Paperback)
Reclaiming the Founding Fathers from America's Right Wing
Prometheus Books, 9781616146702, 253pp.
Publication Date: September 18, 2012
* Individual store prices may vary.
Description
This book examines dozens of books, articles, speeches, and radio broadcasts by such figures as Glenn Beck, Mark Levin, Sean Hannity, Larry Schweikart, and David Barton to expose the deep historical flaws in their use of America's founding history. In contrast to their misleading method of citing proof texts to serve a narrow agenda, Austin allows the Founding Fathers to speak for themselves, situating all quotations in the proper historical context. What emerges is a true historical picture of men who often disagreed with one another on such crucial issues as federal power, judicial review, and the separation of church and state. As Austin shows, the real legacy of the Founding Fathers to us is a political process: a system of disagreement, debate, and compromise that has kept democracy vibrant in America for more than two hundred years.

Austin's carefully researched and rigorously argued book is essential reading for anyone seeking the accurate historical background to many of the today's hot-button political debates.
About the Author
Michael Austin (Wichita, KS) is the author or editor of six books, including Reading the World: Ideas That Matter. He is provost, vice president for Academic Affairs, and professor of English at Newman University.
Praise For That's Not What They Meant!: Reclaiming the Founding Fathers from America's Right Wing…
"Tired of people bellowing at you about the Founding Fathers? Then read Michael Austin's quiet, good-humored, thought-provoking book. . . . A welcome breath of fresh air about a stale subject, it also captures the most important truth about the Founding Fathers - they disagreed with one another, eloquently and even bitterly, about what America should be and about how we should govern ourselves."
- R. B. BERNSTEIN, Distinguished adjunct professor of law, New York Law School, and author of The Founding Fathers Reconsidered


"A long-overdue critique of partisan distortions of America's Founding Fathers. Austin takes both the Right and the Left to task, but he especially castigates the Far Right for cherry-picking (or proof texting) various Founders' statements and then attributing their sentiments to the Founding Fathers as a whole, as if the Founders were a homogenous group of men who agreed on everything. . . .A must-read for anyone who wants an objective exploration of the American political and constitutional system."
- DAVID CONTOSTA, Professor of history, Chestnut Hill College, Philadelphia, PA, and author of Rebel Giants


"Provides a much-needed corrective to some of the craziness being promoted by right-wing extremists these days in the name of the Founding Fathers. . . . The real legacy of those Fathers? A political system. In Austin's words, it's 'a system of disagreement, debate, and compromise...that has kept democracy vibrant in America for more than two hundred years.'"
- DAVIS D. JOYCE, Professor emeritus of history, East Central University, Ada, Oklahoma, and author of Howard Zinn
or
Not Currently Available for Direct Purchase