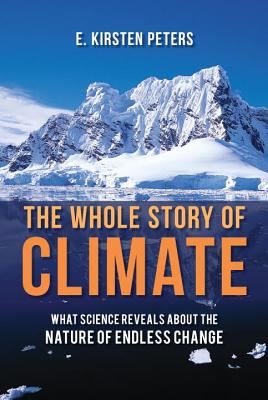 The Whole Story of Climate: What Science Reveals about the Nature of Endless Change (Hardcover)
What Science Reveals about the Nature of Endless Change
Prometheus Books, 9781616146726, 290pp.
Publication Date: November 20, 2012
Description
This volume describes the important contributions that geology has made to our understanding of climate change. What emerges is a much more complex and nuanced picture than we usually see.
About the Author
E. Kirsten Peters, PhD (Pullman, WA), is the author of three previous books on geology, most recently "Planet Rock Doc." As the "Rock Doc," Dr. Peters publishes syndicated essays on science for newspapers across the nation and she reads some of her pieces on Northwest Public Radio. She taught geology and interdisciplinary science classes at Washington State University for ten years and is currently the director of major grant development for the College of Agricultural, Human and Natural Resource Sciences.
Praise For The Whole Story of Climate: What Science Reveals about the Nature of Endless Change…
"Modern geology has shown that the only constant is change. Professor Peters's book - indispensable to those interested in climate change - takes the general reader on an elegantly written and engaging intellectual adventure into the history of the curious and clever ways that modern scientists have been able to construct a precise and richly detailed picture of the often-rapid variations of Earth's climate. No matter your attitude toward the climate-change controversy, this book will prove enlightening and valuable."
- Jerry B. Gough, Emeritus professor, history of science, Washington State University


"In her previous books, E. Kirsten Peters demonstrated that she can explain concepts in science to anyone who is hungry to understand how things work. In this book she uses the geologic record to inform us that rapid changes in global climate have happened before, and we are witnessing the latest one. She also examines the uncertainties of the data and helps us understand how they are used or misused in the climate-change debates."
- Lincoln S. Hollister, Professor emeritus, Department of Geosciences, Princeton University


"This book opens new ground on the climate-change debate. . . . Instead of reading like a textbook, The Whole Story of Climate has biographical portraits of the major discoverers of climate indicators along with the circumstances of their discoveries. [Peters] points out that some of these climate changes were surprisingly rapid. In addition to telling the history, she includes some recommendations for future actions. . . . It isn't just global warming. We live in the midst of a set of Ice Ages. Instead of focusing narrowly on atmospheric carbon dioxide, we need to see it as a part of a larger problem."
- Kenneth Deffeyes, Emeritus professor of geology, Princeton University
Advertisement