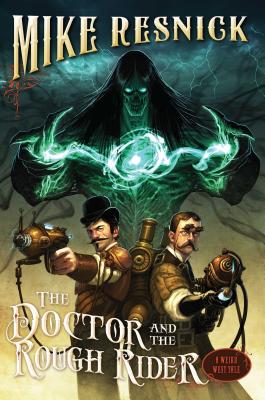 The Doctor and the Rough Rider (A Weird West Tale #3)
Paperback

* Individual store prices may vary.
Description
It's August 19, 1884. The consumptive Doc Holliday is preparing to await his end in a sanitarium in Leadville, Colorado, when the medicine man Geronimo enlists him on a mission. The time the great chief has predicted has come, the one white man with whom he's willing to treat has crossed the Mississippi and is heading to Tombstone—a young man named Theodore Roosevelt. The various tribes know that Geronimo is willing to end the spell that has kept the United States from expanding west of the Mississippi. In response, they have created a huge, monstrous medicine man named War Bonnet, whose function is to kill Roosevelt and Geronimo and keep the United States east of the river forever. And War Bonnet has enlisted the master shootist John Wesley Hardin. So the battle lines are drawn: Roosevelt and Geronimo against the most powerful of the medicine men, a supernatural creature that seemingly nothing can harm; and Holliday against the man with more credited kills than any gunfighter in history. It does not promise to be a tranquil summer.
Praise For The Doctor and the Rough Rider (A Weird West Tale #3)…
"The Doctor and the Rough Rider succeeds as a piece of Weird West fiction, filled to the brim with guns, alcohol, and dusty expeditions on horseback….Anyone looking for an uncomplicated read about adventuring in the American West, with just a touch of fancy tech, will be quite satisfied."-Steampunk Canada

Praise for the Weird West Tales series:

"A mad mixture of steampunk and magic set in an alternate Wild West, this is hugely entertaining and should please fans of SF and westerns."
-Booklist, starred review

"Resnick has done his research, and fast guns, fast plotting, and a comfortably entertaining writing style make this novel a rollicking western with a steampunk tweak."
-Publishers Weekly

"A fast, fun, and often-amusing tale where Wild West meets steampunk. . . . Told in a spare style reminiscent of a tale told round the campfire, The Buntline Special has a mythic feel. It's a modernday tall tale with the requisite larger-than-life characters."
-Miami Herald

"With great relish Resnick subversively refurbishes this notorious collection of fact and embroidery. . . .Clever and refreshing."
-Kirkus Reviews

"Brilliant. Scary, funny, often very moving. Left me wishing I could have shared a couple of whiskeys with Wyatt and Doc."
-Jack McDevitt, Nebula Award-winning author of Echo
Pyr, 9781616146900, 303pp.
Publication Date: December 4, 2012
About the Author
Mike Resnick (Cincinnati, OH) has won an impressive five Hugos and has been nominated for thirty-one more. The author of the Starship series, the John Justin Mallory series, and the Weird West Tales, he has published over seventy novels and more than two hundred fifty short stories and has edited over forty anthologies. His Kirinyaga series, with sixty-seven major and minor awards and nominations to date, is the most honored series of stories in the history of science fiction.
or
Not Currently Available for Direct Purchase